A 52-year-old New Mexico man was fatally shot by police this week after they arrived at the wrong address while responding to a domestic violence call, according to state investigators.
In a statement released on April 6, New Mexico State Police (NMSP) said Robert Dotson was killed Wednesday night after members of the Farmington Police Department responded to a domestic violence call around 11:30 p.m. and went to Dotson's house instead of a neighboring residence.
Once officers arrived in the neighborhood, they "mistakenly approached 5305 Valley View Avenue instead of 5308 Valley View Avenue," NMSP said.
After no one responded when police officers announced themselves and knocked on the front door, they briefed the control room on the situation and asked a dispatcher to call the person back and ask them to come to the front door.
Eventually, the unaware homeowner of the wrong address opened the screen door of his house armed with a handgun. At this point, at least one officer fired one round that struck Dotson, body camera footage reviewed by NMSP shows.
Not knowing who was outside their home, the man's wife returned with a gun and fired at least one round from the doorway, prompting officers to return fire again. State police said the woman put down her gun after realizing the individuals outside her home were police officers.
"Dotson suffered fatal injuries as a result of the shooting and was pronounced dead at the scene," NMSP said, noting the victim's wife was unharmed and won't be charged with a crime.
'Very Dark Day'
In a video statement published on Thursday, Farmington Police Chief Steve Hebbe confirmed that officers mistakenly approached the wrong address and fatally shot Dotson, calling the case "unbelievably tragic."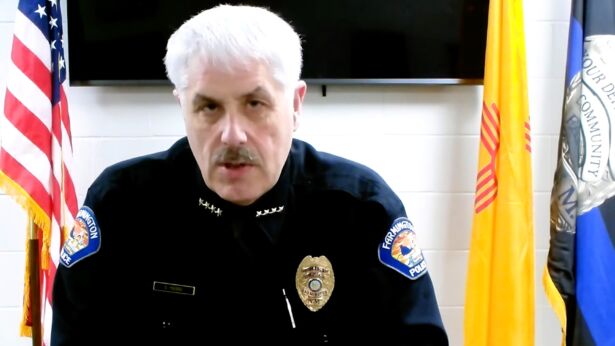 "This is an extremely traumatic event, and I am just heartbroken by the circumstances surrounding this," Hebbe said. "Dotson was not the subject of the call that our officers were responding to, and this ending is just unbelievably tragic. I'm extremely sorry that we're in this position. We'll find more facts as we go through the investigation over the next several days."
The department confirmed on Friday that the three officers involved are on paid administrative leave pending a review of the case. They were not immediately identified, and it wasn't clear what administrative action could be taken.
When asked about the initial report of domestic violence that came from a home across the street, Farmington police spokesperson Shanice Gonzales said no action was taken against any of the parties in that case and that no one was armed at that address.
The shooting remains under investigation. The New Mexico State Police Investigation Bureau said any findings will be shared with the district attorney for further review.
In Thursday's video statement, Hebbe said the shooting was "a very dark day" for Dotson's family, the community, and the Farmington Police Department.
"I extend nothing but my deepest condolences to the Dotson family," the police chief said. "There is nothing I can say that will make this better. It's a terrible event, and I'm heartbroken over it."
The Associated Press contributed to this report.