Republican Sens. Ted Cruz (R-Texas) and Bill Cassidy (R-La.) introduced a bill on July 18 that would label Antifa a domestic terror organization after police in Washington said an Antifa member committed a terror attack on an immigration facility and Antifa members battered a journalist in Portland in broad daylight without being arrested.
"Antifa is a group of hateful, intolerant radicals who pursue their unhinged agenda through aggressive violence," Cruz said in a statement announcing the introduction of the resolution.
"Time and time again their actions have demonstrated that their only purpose is to inflict harm on those who oppose their views. The hate and violence they spread must be stopped, and I am proud to introduce this resolution with Senator Cassidy to properly identify what Antifa are: domestic terrorists."
Cassidy called Antifa "violent masked bullies who 'fight fascism' with actual fascism."
Antifa is a domestic terror organization. This is a group of hateful, intolerant radicals pursuing their extreme agenda through violence. They are masked bigots, attacking others b/c they don't agree with their ideas. The time to stop Antifa is NOW! https://t.co/trBrXm0GgF

— U.S. Senator Bill Cassidy, M.D. (@SenBillCassidy) July 18, 2019
Like any terrorist organization they choose to pursue their political ends through violence, fear & intimidation. They must be stopped. I'm proud to introduce this resolution w @SenBillCassidy to properly identify what Antifa are: domestic terrorists. —> https://t.co/3qDDun7Tp3

— Senator Ted Cruz (@SenTedCruz) July 18, 2019
The resolution states that members of Antifa, "because they believe that free speech is equivalent to violence, have used threats of violence in the pursuit of suppressing opposing political ideologies," and notes that Antifa is known to violently disrupt groups who are demonstrating in public legally.
It also lists incidents where Antifa was involved including the violence during riots in Berkeley in 2017, the beating of journalist Andy Ngo, and the doxxing of Immigration and Customs Enforcement (ICE) officers.
The Senate "calls for the groups and organizations across the country who act under the banner of Antifa to be designated as domestic terrorist organizations" and "unequivocally condemns the violent actions of Antifa groups as unacceptable acts for anyone in the United States," the resolution states.
Cruz and Cassidy also called in the legislation for the federal government to "combat the spread of all forms of domestic terrorism, including White supremacist terrorism."
President Donald Trump on July 17 called Antifa "evil" and said it was full of "sick, bad people," noting the group was part of "the rise of a dangerous, militant hard left."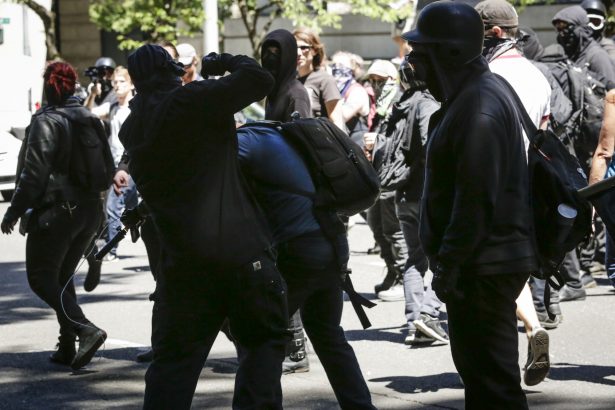 Previous Efforts, Designations
There have been previous efforts to designate Antifa in certain ways, including from lawmakers like Cruz.
After the 2017 violence, Berkeley Mayor Jesse Arreguin said that Antifa should be designated as a gang.
"They come dressed in uniforms, they have weapons, they're almost a militia," he told CBS. "I think we should classify them as a gang."
"I think we're gonna have to think 'big picture' about what's the strategy how we're going to deal with these violent elements on the left as well," Arreguin added. "We also need to hold accountable and encourage people not to associate with these extremists because it empowers them and gives them cover, we're going to deal with these violent elements on the left as well."
FBI Director Christopher Wray said later that year that the group was being investigated by FBI agents.
"We are investigating a number of what we would call anarchist-extremist investigations, where we would have properly predicated subjects of people who are motivated to commit violent criminal activity on kind of an Antifa ideology," he said.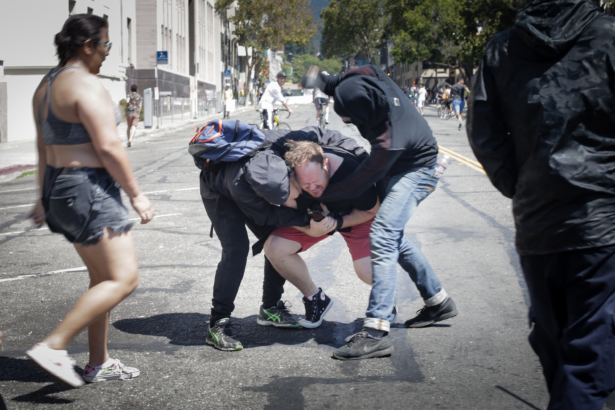 Wray said the FBI views Antifa as an ideology, not a single movement; the group has dozens of affiliates across the United States and some are more infamous than others, such as the Rose City group called out in Cruz and Cassidy's resolution.
A confidential assessment by the FBI and Department of Homeland Security obtained by Politico showed that the latter under the Obama administration formally classified the activities of Antifa as "domestic terrorist violence."
Authorities wrote that "anarchist extremists" were the primary instigators of violence at public rallies and known for attacking the police and conservative-leaning groups.
"It was in that period [as the Trump campaign emerged] that we really became aware of them," one senior law enforcement official tracking domestic extremists in a state where clashes became common told Politico.
"These Antifa guys were showing up with weapons, shields and bike helmets and just beating the [expletive] out of people. … They're using Molotov cocktails, they're starting fires, they're throwing bombs and smashing windows."
In a previous report from The Epoch Times, the group's communist origins were investigated.