Sen. Mark Warner (D-Va.) said the federal government needs a rules-based approach to counter technologies owned by the Chinese Communist Party (CCP), such as TikTok.
"We need an organized approach on how we deal with technologies from countries like Russia and China. And let me be clear, I want to talk about China. My beef is with the Communist Party of China. … It's not with the Chinese people. It's not with the Chinese diaspora where they live in America or anywhere else in the world.
"I think TikTok is a national security concern," Warner told NTD, the sister media outlet of The Epoch Times.
Warner, who has been critical of TikTok, said the platform has as many as 150 million Americans using it for an average of about 90 minutes daily.
With the app's popularity, especially among young Americans, Warner expressed concern that the CCP may manipulate information on the video-sharing platform, allowing it to shape young people's minds according to Beijing's narrative.
"Since particularly young people are looking to TikTok for their news, the ability for the Communist Party to say, 'Hey, we want you to shape the news, that's pro-China or anti-America,' I think it's a real issue," he said.
The congressman pointed to a content moderation guideline leaked in 2019 that shows TikTok and its parent company, ByteDance, instructed moderates to take down videos critical of the CCP, including the Tiananmen Square massacre and ongoing human rights abuses against Uyghurs. TikTok said at that time the guidelines were "no longer in use."
Warner, chair of the Senate Select Committee on Intelligence, said the CCP can use TikTok as a "propaganda tool."
"As we see tensions rise between China and Taiwan, the potential to have that algorithm that the CCP, I believe, ultimately can control … end[s] up becoming a propaganda tool," he said.
"I think it's such a potential downside."
The Epoch Times reached out to TikTok for comment and has not received a response as of press time.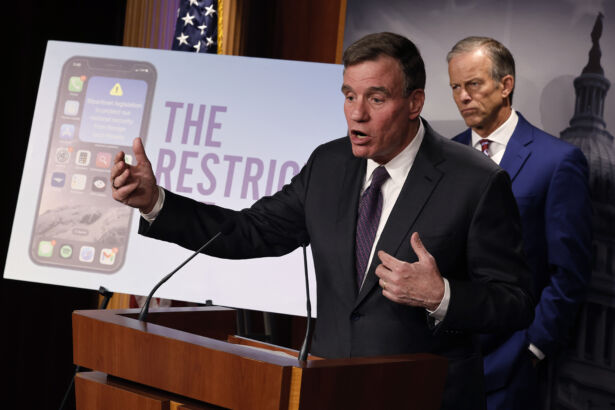 The Virginia Democratic noted the issue is broader than just TikTok.
"There ought to be a rules-based approach because it's TikTok today; it might be some other technology tomorrow," said Warner.
Senate Majority Leader Chuck Schumer (D-N.Y.) said a ban on TikTok and other foreign-owned apps is worth considering.
"This is one of the things we will look at, for sure," Schumer said at a May 3 press conference, referring to the bipartisan legislation introduced by Warner.
In March, Warner and Sen. John Thune (R-S.D.) unveiled legislation seeking to give the federal government more power to ban TikTok and other technology products from adversarial foreign nations, including Russia and communist China.
The bill, dubbed the "RESTRICT Act," allows the Commerce Department to "identify, deter, disrupt, prevent, prohibit, and mitigate" information and technology products supplied by foreign adversaries that pose "undue or unacceptable risk" to U.S. national security interests, according to the summary of the bill released by Warner's office.
Schumer's comment came after Senate Democrats announced they're crafting new legislation aimed at countering the Chinese regime's economic and military expansion.
From The Epoch Times