Senate Republicans on March 1 grilled Attorney General Merrick Garland over his handling of the Department of Justice (DOJ), which oversees the enforcement of federal law.
Garland appeared before the Senate Judiciary Committee in his first appearance before the 118th Congress.
During the hearing Garland, whose DOJ has been at the epicenter of GOP investigations into the "weaponization" of the federal government, Republicans asked Garland about several of his past legal decisions while serving as attorney general.
On Feb. 9, Republicans in the House gaveled in their first hearing of the Select Subcommittee on the Weaponization of the Federal Government, which is investigating charges that Garland and President Joe Biden have weaponized federal law enforcement against American citizens who oppose Democrat policy goals.
'Uphold DOJ Norms'
In his opening statement, Garland tried to project an image of smooth sailing at the DOJ, insisting that the department takes its role as guardian of U.S. law seriously.
"Every day, the 115,000 employees of the Justice Department work tirelessly to fulfill our mission: to uphold the rule of law, to keep our country safe, and to protect civil rights," Garland said.
"Every day, our FBI, ATF and DEA agents, and our Deputy U.S. Marshals put their lives on the line to disrupt threats and respond to crises. Every day, Department employees counter complex threats to our national security. They fiercely protect the civil rights of our citizens. They pursue accountability for environmental harms. They prosecute crimes that victimize workers, consumers, and taxpayers. They defend our country's democratic institutions. And every day, in everything we do, the employees of the Justice Department adhere to and uphold the rule of law that is the foundation of our system of government."
Garland suggested that despite GOP claims to the contrary, it is the mission of his DOJ "to uphold the norms that have guided the Justice Department for 50 years."
"Those norms matter now more than ever to our democracy," Garland said.
The attorney general referenced the treatment of Jan. 6 defendants as proof that the system is working properly, even as Republicans continue to warn that these defendants are facing "nothing short of human rights violations."
Those arrested in connection with the events of Jan. 6 have reported sexual and physical abuse, the deprivation of bare essentials such as healthy food and first-world standard medical care, and leveled serious charges of rights violations by the D.C. Metropolitan Jail, as well as others holding Jan. 6 defendants.
"We are also working closer than ever with our Ukrainian partners in defense of justice, democracy, and the rule of law," Garland added, though the Ukrainian issue is one that falls more under the purview of the  Department of State.
"The Justice Department is using every resource at our disposal to keep our country safe," Garland said.
Crime Wave
As the top official in charge of federal law enforcement, Garland's track record on crime was also scrutinized.
Currently, major U.S. cities from one side of the nation to the other are facing a nearly-unprecedented crime wave. Republicans have blamed this situation in part on prosecutors refusing to enforce the law.
Many questions directed to Garland concentrated on crime.
"Most Americans are concerned about rising crime," Sen. Lindsey Graham (R-S.C.) said during questioning. "The best thing we can do is tell them 'We get it.'"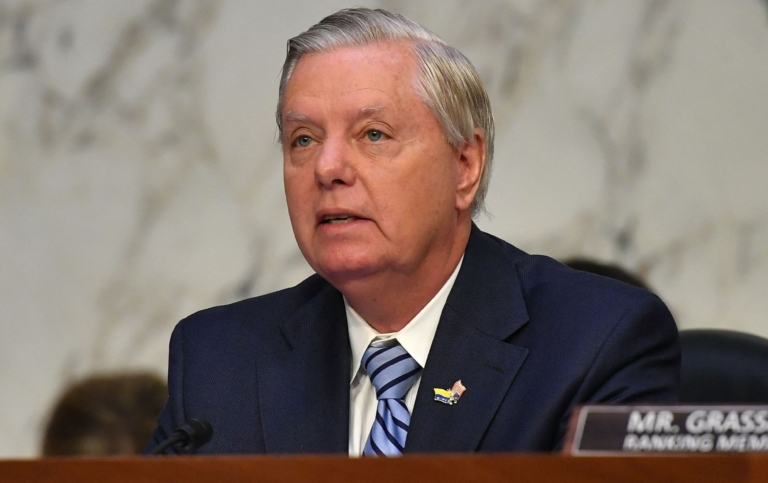 Graham said he wants to work with Garland to deal with rising crime, including the still-growing fentanyl epidemic which has been particularly harmful to Americans between the ages of 18 and 45.
During the hearing, Garland acknowledged that the fentanyl epidemic was started "on purpose" by the Mexican Sinaloa drug cartel. However, he rejected calls to increase mandatory minimum sentencing guidelines for fentanyl-pushers, and indicated that he does not think classifying cartels as terror groups would be effective.
Republicans have often warned of a double standard in the treatment of different offenders in similar crimes.
"The health of the DOJ requires that we treat alike cases alike and uphold the rule of law as far as possible," Garland stated during the hearing.
But Republicans are skeptical of this legalistic attitude, and have often noted the vast differences in treatment for Jan. 6 defendants in comparison with Black Lives Matter (BLM) rioters, who caused billions in physical damage across the United States. Even as the DOJ continues one of its largest manhunts ever to gather up prospective Jan. 6 defendants, many of those who committed crimes in connection to BLM remain free.
Crisis Pregnancy Centers
Sen Ted Cruz (R-Texas) also mentioned a spurt of attacks on crisis pregnancy centers.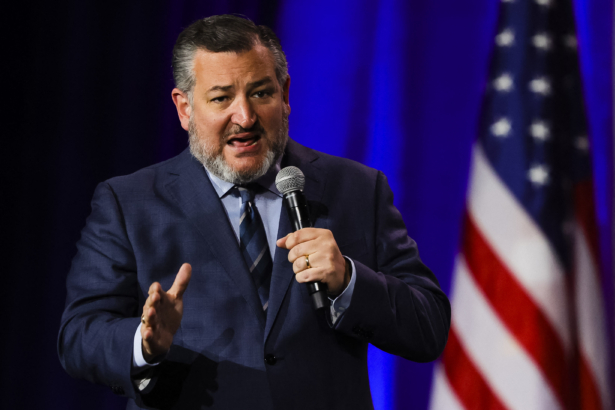 Crisis pregnancy centers are nonprofits founded for the purpose of providing counseling, support, and resources to persuade women against having an abortion. Often, services provided by these organizations include financial assistance, child-rearing resources, and adoption referrals, among others.
Specifically, crisis pregnancy centers often furnish new and expecting mothers with essentials like baby formula, diapers, and clothing in an effort to give women facing financial hardship an alternative to abortion.
Following an unprecedented leak showing that the Supreme Court was poised to overturn Roe v. Wade—which it later did in the majority opinion of Dobbs v. Jackson Women's Health Organization—pro-abortion activists took to the streets. In many cases, demonstrations turned violent and crisis pregnancy centers found themselves facing attacks.
For instance, on June 10, Luke Cirillo, the CEO of First Image, which runs several crisis pregnancy centers in Portland, Oregon, received a call from police that pro-abortion activists "threw an incendiary through one of the windows [of one of the centers] which lit a significant fire in the back room."
This was not the only attack against First Image in the Portland area: on May 5, over a month before, another First Image facility had been vandalized and had the graffiti "[expletive] CPCs [crisis pregnancy centers]" written on it.
On the other coast, a crisis pregnancy center run by CompassCare in Buffalo, New York, was firebombed by pro-abortion agitators. Photographs posted on Facebook showed the effects of this attack, with windows blown out and glass lining the sidewalk outside the facility.
"Jane was here," a reference to "Jane Roe," was also written on the wall at the side of the facility.
The FBI has said they are investigating the attacks, but crisis pregnancy centers have continued to face the fear of further violent attacks by pro-abortion radicals.
"There have been attacks all over the country," Cruz said. "And yet, the Department of Justice has not brought these violent criminals to justice."
"If you're a criminal and you attack a crisis pregnancy center, that is not a priority for the Biden administration," Cruz said.
DOJ 'Did Nothing' to Protect SCOTUS Justices
Cruz also referenced safety concerns in the aftermath of an unprecedented leak of the Supreme Court's abortion decision in Dobbs v. Jackson Women's Health Organization, saying that Garland's DOJ "did nothing" to protect the justices.
Following the leak, all six conservative justices faced left-wing protests at their homes.
The judiciary was envisioned by the Founders as the most independent of all the branches of government. To this end, federal law prohibits the picketing or protesting of judges in order to affect the outcome of a case.
Still, in the aftermath of the Dobbs leak, the places of worship, home addresses, and the schools of SCOTUS justices' children were leaked by agitators. Protests raged at the homes of conservative justices for weeks.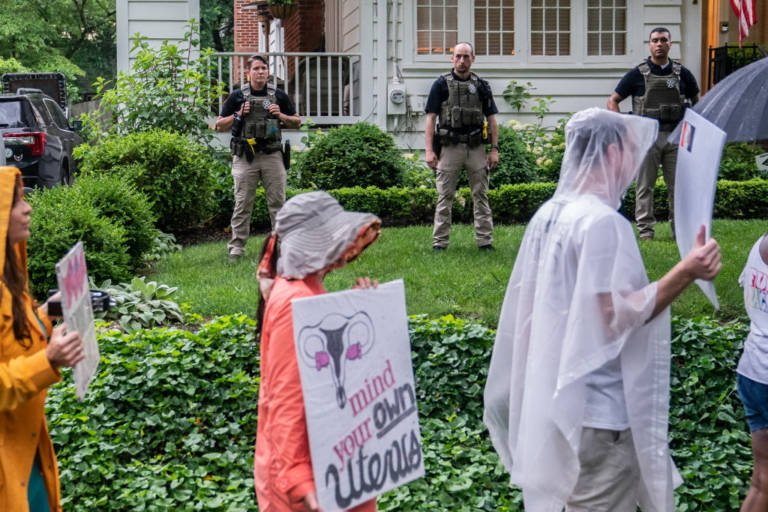 Through it all, Cruz told Garland, "you sat on your hands."
"Your failure to act to protect the safety of the justices and their families was an obvious product of political bias," he continued.
"You agree with Roe v. Wade, you disagree with the Dobbs decision, and the Department of Justice under this president was perfectly happy to refuse to enforce the law and allow threats of violence."
Garland rejected this appraisal, replying that after threats arose against justices, he ordered 24/7 protection of each justice by the U.S. Marshall Service.
"Has the Department of Justice enforced this statute, have you brought a single case against violators?" Cruz asked.
"Senator, you asked me if I sat on my hands, and quite the opposite, I sent 70 United States Marshalls…" Garland began.
Cruz interjected, "Have you brought a single case against violators of this statute? It's a yes or no question."
Garland responded by insisting that the safety and security of Supreme Court Justices was a key concern for the DOJ.
"As far as I know we haven't [brought a case on this statute]," he said, and again emphasized that his agency takes the security of justices seriously.
"How do you decide which statutes the DOJ enforces and which ones it doesn't?" Cruz asked.
"The Marshalls on scene make that determination," Garland said.
He said that it is up to the Marshalls, not himself, to determine who to arrest on the ground.
GOP Concerns Over DOJ 'Weaponization'
The testimony fits into the larger framework of GOP concerns over the DOJ becoming "weaponized" against enemies of the Biden administration.
Aside from the ongoing hearings of the Weaponization Committee in the House, a November 2022 House Republican whistleblower report unveiled a litany of findings from current and former DOJ and FBI agents and contractors.
Republicans found that Garland's DOJ had artificially inflated the numbers of "domestic violent extremism events," DVEs, in order to bolster Democrats' oft-repeated claim that DVEs are one of the biggest threats Americans face. Since 2020, Democrats have increasingly claimed that right-wing domestic extremism is the most serious national security risk facing the United States.
Beyond this, the FBI was caught manufacturing DVEs, aiding and abetting a plan to kidnap Michigan Gov. Gretchen Whitmer, whose restrictive COVID-19 policies made her one of the most controversial governors in the nation during the 2020 election cycle. Defense attorneys for men charged in connection with the failed plot revealed that no fewer than 12 FBI assets had assisted in the plot.
Republicans have also raised alarms over Garland's "school board memo" in October 2021, after some school board meetings devolved into shouting matches with concerned parents.
In that memo, Garland offered federal aid and resources to local police attempting to bring legal charges against parents speaking out against critical race theory, modern gender ideology, and other left-wing issues. Republicans have warned that this is a concerning violation of parents' First Amendment rights.
Since then, the world has also learned—courtesy of the Twitter files, released by new Twitter owner Elon Musk—that the FBI and DOJ colluded with Big Tech platforms to restrict the prevalence of certain viewpoints or news stories on their platform.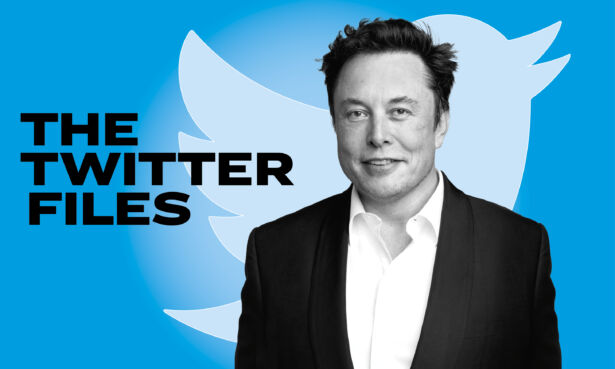 Senate Judiciary Republicans had these issues and more in mind as they gathered to hear Garland's testimony.
In a tweet posted during the hearing, Sen. Marsha Blackburn (R-Tenn.) expressed general Republican sentiments toward Garland's management of the DOJ.
"Joe Biden and Merrick Garland are attempting to reimagine America and its justice system using a radically left agenda," Blackburn wrote.
Graham struck the same chord in a separate tweet.
"The bottom line, we are adrift as a nation," Graham wrote. "We are not taking the crime problem as seriously as we should."
Many of the report's findings were given to House Judiciary Committee Chairman Jim Jordan (R-Ohio) and Chuck Grassley (R-Iowa).
During the March 1 hearing, Grassley asked Garland for a promise to protect whistleblowers. Garland expressed support for "disciplin[ing]" those who carry out retaliatory actions against whistleblowers.
"Do you commit to me, this committee, and the Senate as a whole that any retaliatory conduct against whistleblowers will be disciplined?" Grassley asked Garland.
"I do, Senator," Garland replied. "As you know, I've long been a staunch supporter of the Whistleblower and False Claims Act."
However, Garland's claim to supporting whistleblower protection seems challenged by the reported outcomes experienced by recent whistleblowers. Several whistleblowers who unveiled this information have since lost their jobs, Jordan reported during the first Weaponization hearing.
From The Epoch Times