Former Democrat Tulsi Gabbard is considering "all options" for a possible 2024 presidential bid as an independent or third-party candidate.
While appearing on Fox's program "Hannity" on Thursday, Ms. Gabbard said she would consider running "if there were a way for me to serve the country in that fashion best."
The former congresswoman announced her departure from the Democratic Party in October last year and has become a strong independent voice for common sense policies and upholding the U.S. Constitution, overlapping with the priorities of many in conservatives circles.
"I think that there are actually a lot of Democrats across the country who, like me, feel that today's Democratic Party is completely out of touch with the people," Ms. Gabbard said. "We have the Democrat elite, people in the Biden administration pushing this nonsense saying things like the government should be responsible for raising your children, not you as parents. They are pushing things like censorship of any speech that they don't like. They are pushing open borders. They are pushing favoring victims or criminals."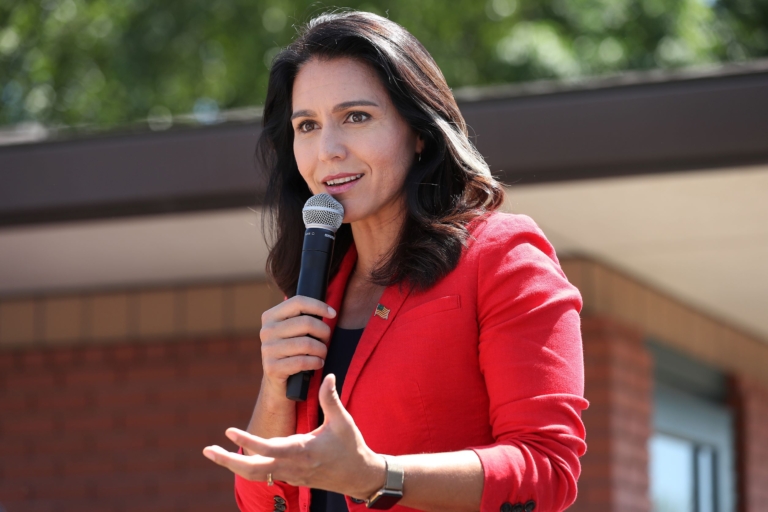 "I was a Democrat my entire life until a few months ago," she continued. "Because of their insanity, I could no longer associate myself with them."
Ms. Gabbard is confident that any potential challengers to President Joe Biden can trump his level of support and win the 2024 election.
"I think poll after poll shows that voters in this country are looking for someone other than Joe Biden and his failed policies to lead this country. And so absolutely, they should consider all the options before them," she said.
The possibility of Vice President Kamala Harris becoming president is something to look out for, Gabbard acknowledged.
"The DNC's strategy to ensure the Democrat establishment remains in power is to re-elect Joe Biden, no matter how old or capable he is, and then get him to resign or step aside and install Kamala Harris as president," Gabbard explained. "She will be untested, unelected, and ready to act as the Democrat Establishment's puppet president. She will then have the advantage and power of incumbency to run in 2028."
Gabbard said she believes most Democratic voters are looking for another options besides reelecting Mr. Biden, 80, who she believes has acted in a way that "takes voters for granted."
"Voters want options," Gabbard added. "They want to be able to vote for the best candidate they believe can do the job."
Gabbard said she had "no regrets" becoming an independent during an interview with state GOP Chair Jeff Kaufmann in Davenport last month.
"You talked about how the Republican Party is the party of free thought and free speech; that debate is welcome," she said, referencing comments made as she was being introduced. "The Democratic Party used to be that way. That was the party I joined 20 years ago."
A friend of Ms. Gabbard who campaigned for her in New Hampshire, Eric Jackman, told The Daily Beast that Gabbard would be able to connect with younger independents wanting someone "who is of the 9/11 generation, served in the military, and would be very hesitant to offer advice to a commander-in-chief to go invade or overthrow another country."
"Me, speaking personally, I'd love to see her at the top of the ticket," he said. "But if it meant her at the top of the ticket with another Republican, yeah, you know, my experience is people who are Tulsi Gabbard supporters are very past partisan politics. They don't like partisanship, they don't like to be pinned down by a label."
Ms. Gabbard back in February said she working on a memoir as the first of a two-book deal with Regnery Publishing, the longtime conservative publisher. Regnery calls the book the "full story of her electrifying break" with the Democrats. Set for release in January 2024, it is titled, "For Love of Country: Why I left the Democratic Party."
"This book will share my experiences at the highest level of Democratic politics and why I can no longer call myself a Democrat," Gabbard said in a statement at the time. "Today's Democratic Party is unrecognizable from the party I joined 20 years ago."
From The Epoch Times