The United States has sanctioned five Chinese companies over their alleged role in the repression of the Uyghur Muslim minority in China's Xinjiang region, the U.S. Commerce Department said on March 28.
The companies were accused of implicating human rights abuses in "China's campaign of repression, arbitrary mass detention and high-technology surveillance against the Uyghur people and members of other Muslim minority groups" in Xinjiang, the department said.
The U.S. sanctions specifically targeted Yutian Haishi Meitian Electronic Technology and four subsidiaries of the Chinese video surveillance giant Hikvision—namely Luopu Haishi Dingxin Electronic Technology, Moyu Haishi Electronic Technology, Pishan Haishi Yong'an Electronic Technology, and Urumqi Haishi Xin'an Electronic Technology.
The move came just two weeks after a senior official from the U.S. Department of Homeland Security (DHS) said the department aims to add more entities to the sanctions list for using forced labor in Xinjiang this year.
"One of our highest priorities for 2023 is to add additional entities to that list," Robert Silvers, DHS undersecretary for strategy, policy, and plans, said at an event at the Hudson Institute on March 17.
"We are very aware, based on credible reporting from the NGO and other communities, that there's a significant number of companies that are operating in Xinjiang or around Xinjiang that are engaging in those abhorrent practices, and we want to name them, and we want to ensure that their goods do not come into this country," he added.
Another objective for the DHS this year, according to Silvers, is to persuade like-minded countries in Europe, as well as Japan, Australia, India, and others, to pursue enforcement regimes akin to those of the United States.
Chinese foreign ministry spokesperson Mao Ning condemned the U.S. sanctions against Chinese companies, calling it an attempt by the U.S. government to "destabilize Xinjiang" and "curb China."
Hikvision Allegedly Aids the CCP
Hikvision was placed on a trade blacklist by the United States in 2019 for its involvement in human rights violations in China, including mass detentions and surveillance.
The company has come under severe criticism for providing its technology to the Chinese Communist Party (CCP) to repress Uyghur Muslims in Xinjiang.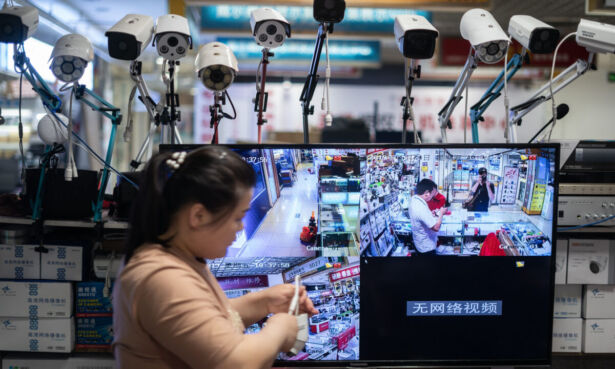 China's Hikvision produces over one-fifth of the world's surveillance cameras, and its market value has surpassed Sony's.
The CCP has about a 40 percent stake in Hikvision through state-owned enterprise Zhongdian Haikang Group, which was invested by China Electronics Technology Group (China Electric).
A November 2019 report by the Congressional-Executive Commission on China stated that Hikvision "was directly involved in the construction, operation, and ongoing maintenance" of a centralized system that aggregates and analyzes large amounts of individuals' data in Xinjiang.
Hikvision supplies "total surveillance and racial profiling, which is providing an absolute horror to the Uyghur people; it's creating a prototype for total surveillance elsewhere in China and potentially, throughout the world," Louisa Greve, director of global advocacy at the Uyghur Human Rights Project, a Washington-based nonprofit, told The Epoch Times.
A 2022 report from Pennsylvania-based video surveillance information company IPVM also revealed that Hikvision activated alarms to aid the CCP in tracking protesters and Falun Gong adherents.
Hikvision has denied all reports of aiding the Chinese regime to suppress Uyghurs.
Hannah Ng, Emel Khan, Sean Lin, and Reuters contributed to this report.
From The Epoch Times