President Joe Biden on Jan. 8 made his first visit to the U.S.–Mexico border since taking office two years ago to assess the growing illegal immigration crisis and to review enforcement operations.
After seeing the conditions firsthand and speaking with U.S. Customs and Border Protection officers, Biden said: "They need a lot of resources. We're going to get it for them."
Biden spent several hours touring the border in El Paso, Texas, which has become a major entry point for those aiming to enter the United States illegally. The president, who visited the El Paso County Migrant Services Center, also was scheduled to meet with nonprofits and faith-based charitable organizations that help illegal immigrants when they arrive in the United States.
He met with border personnel, observed demonstrations of how they search vehicles, saw parts of the city affected by the problem, and also viewed part of the border wall.
It was unclear if Biden spoke with any illegal border-crossers.
The situation at the border has been a source of great contention, as evidenced by Biden's reception from Texas Gov. Greg Abbott. According to border officials, a record 2.2 million illegal immigrants were apprehended at the border in fiscal 2022, which ended Sept. 30, 2022.
Abbott hand-delivered a letter to Biden that began with, "Your visit to our southern border with Mexico today is $20 billion too late and two years too late."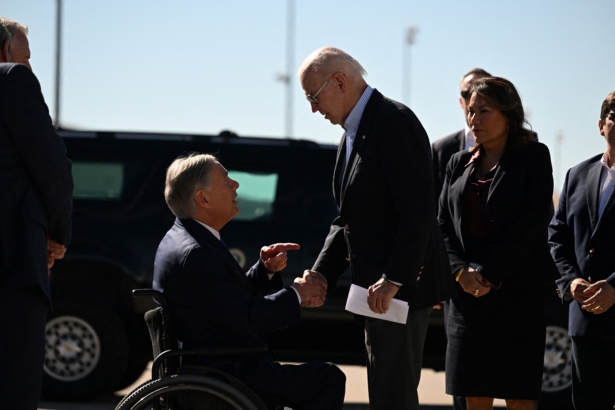 The letter lists five steps that the governor wants Biden to take to address illegal immigration. These include fully implementing the Trump-era Remain in Mexico policy, continuing Title 42 expulsions, stricter enforcement of existing immigration laws, construction of the border wall, and the designation of Mexican drug cartels as terrorist organizations.
When asked about the letter on Jan. 8, Biden said he had yet to read it.
Biden's visit has been viewed as an attempt to address complaints about his immigration policies. In recent weeks, Biden has announced new plans and resurrected some guidelines he had initially tried to end.
In response to criticism over his immigration policies, Biden has reimplemented Title 42, which then-President Donald Trump used during the pandemic to contain COVID-19. Title 42 was first devised in 1944 as a way to prevent the introduction of diseases into the country by immigrants.
Biden also devised a plan for limited legal entry for Cubans, Nicaraguans, and Haitians who follow specific procedures and arrive in the United States by air.
The plans triggered anger on both sides of the debate, with immigration hawks calling it too soft and illegal immigrant aid groups accusing Biden of following Trump's lead. Border security has been a divisive issue since the start of Biden's presidency, and Republicans are expected to make it a central issue when the new Congress convenes on Jan. 9.
Rep. Jim Jordan (R-Ohio) told Fox News on Jan. 8 that his party is willing to work with Biden, although the president will have to be ready to make some difficult decisions.
"They've allowed a situation where frankly, we no longer have a border," Jordan said.
Aside from the Jan. 8 visit, the only other administration official to visit is Vice President Kamala Harris, who toured the border in June 2021. Since then, Abbott and Florida Gov. Ron DeSantis made news by sending busloads of illegal immigrants to so-called sanctuary cities, including at least one busload that was dropped off near Harris's residence in Washington.
According to a Real Clear Politics average of national polls, Americans are unhappy with Biden's border policies. It reports that 58.4 percent of Americans disapprove of the Biden administration's handling of the issue. Only 36.8 percent approved, a difference of 21.6 percent.
Administration officials say that many factors driving the influx are beyond their control. Poverty, corruption, crime, and violence in other countries are motivating many to look for a better life in the United States, according to Homeland Security Secretary Alejandro Mayorkas.
After the El Paso visit, Biden was scheduled to travel to Mexico City, to meet with Mexican President Andrés Manuel López Obrador and Canadian Prime Minister Justin Trudeau. The three North American leaders were expected to discuss many issues facing their countries, with immigration on the list of topics.
Reuters and The Associated Press contributed to this report.
From The Epoch Times