President Joe Biden said on Thursday that he would travel to East Palestine, Ohio, to see the site of the Feb. 3 train derailment and subsequent environmental and health disaster "at some point."
Biden made the comment to reporters when asked if he had plans to visit the town as he was leaving a lunch with Senate Democrats, ABC News reported.
"I've spoken with every official in Ohio—Democrat and Republican—on a continuous basis, as in Pennsylvania," Biden said. "I laid out a little bit … what I think the answers are, and we will be implementing an awful lot into the legislation here."
"And I will be out there at some point," he said before abruptly turning away. He didn't elaborate on when.
Biden's statement comes hours after Republican Ohio Gov. Mike DeWine urged Biden to visit East Palestine as residents' concerns grow over their health and uncertainty about the federal government's long-term commitment to their safety.
"He should come; there's no doubt about it," DeWine told "Fox and Friends" on March 2. "He needs to come. The people want to see the president. He should be there."
However, Biden had previously said as recently as last week that he had no immediate plans to visit the village where 5,000 residents are suffering from adverse health effects and displacement as a result of the disaster.
"At this point, I'm not," Biden told a group of reporters on the White House lawn last week when asked if he was planning on traveling to East Palestine.
The president went on to say in his defense that he'd had "a long meeting with my team as to what they're doing" on Zoom and "have spoken with every single major figure in both Pennsylvania and Ohio."
"I mean, we were there two hours after the train went down, two hours … and so, the idea that we're not engaged is simply not there," Biden added.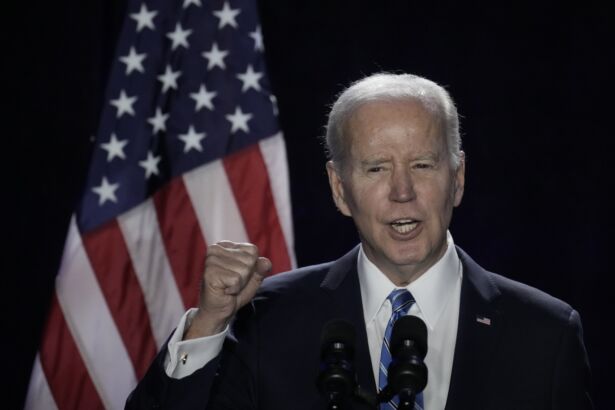 DeWine told Fox that the last time he had actually spoken with Biden was over two weeks ago when the president was in Poland during his "surprise visit" to Ukraine. There, he pledged $500 million in aid and to "reaffirm" to Ukrainian President Volodymyr Zelenskyy his "unwavering and unflagging commitment to Ukraine's democracy, sovereignty, and territorial integrity."
While in Poland, "He called me directly," DeWine told Fox. "I've talked to him several times. I do talk to the White House, you know, on issues, things that we're trying to get done."
When Fox asked if the president has given him any explanation for why he hasn't shown up, the governor simply said, "No."
"I just think now is the time," DeWine continued. "The president needs to come. It's just important."
Republican criticism has only intensified since Biden went to Europe, yet didn't, in the four weeks since disaster struck, take the relatively short trip to the Northeast Ohio town.
Former President Donald Trump's Feb. 22 visit to the village to donate food and water and show his support has only added fuel to the growing discontent.
On Feb. 28, Rep. Bill Johnson (R-Ohio), who represents the congressional district that includes East Palestine, blasted Biden during a press conference for remaining "conspicuously silent," calling it "past time" for him "to make the short trip to East Palestine and show up for the 5,000 Americans who call that little, small Appalachian village home."
"You pride yourself on your 'Lunch Bucket Joe' nickname and tout your blue-collar Scranton, Pennsylvania, roots, but Mr. President, there is nowhere more blue collar than Northeast Ohio, and no people more deserving of hearing directly from their president right now than the residents of East Palestine," he said.
"They want comfort, they want to know you care, and they want your assurance that the federal government will see this cleanup through long after the cameras go away."
East Palestine Mayor Trent Conaway has long criticized Biden for his lack of personal support and presence, telling Fox's Jesse Watters on President's Day that he was "furious" when he saw Biden all the way in Ukraine "giving millions of dollars away to people over there and not to us."
"That was the biggest slap in the face," he said.
U.S. Environmental Protection Agency (EPA) Administrator Michael Regan was the first Biden administration official to visit East Palestine on Feb. 16, nearly two weeks after the incident, and it took nearly three weeks for U.S. Department of Transportation Secretary Pete Buttigieg to show up on Feb. 23.