Edward Snowden, a former National Security Agency (NSA) contractor who leaked information about the agency's widespread domestic surveillance operations during the Obama administration, has received a Russian passport and taken the citizenship oath, Russian media quoted his lawyer as saying Friday.
Snowden's lawyer, Anatoly Kucherena, was cited by Russian state media TASS as saying that his client on Thursday received his Russian passport and pledged allegiance to his host country Russia, where he fled to from the United States in 2013 after making a series of explosive disclosures.
Kucherena told the outlet that he had seen Snowden a day earlier and he was doing well.
It comes around three months after Russian President Vladimir Putin granted Snowden citizenship. Snowden is grateful that he's a full-fledged Russian citizen, Kucherena was cited by Russia's Interfax agency as saying, with the lawyer noting that now Snowden can no longer be extradited to a foreign country.
Snowden lives in Moscow with his American wife, Lindsey Mills. According to Kucherena, Mills has also applied to become a Russian citizen.
U.S. State Department spokesman Ned Price said Friday that the United States was aware of reports Snowden had finalized his Russian citizenship but could not confirm them.
"Mr. Snowden has long signaled his allegiance to Russia, this step would only formalize that," Price told reporters.
While some view Snowden as a whistleblower who helped expose government intrusion into the lives of ordinary Americans, others consider him a traitor who undermined national security and put American lives at risk.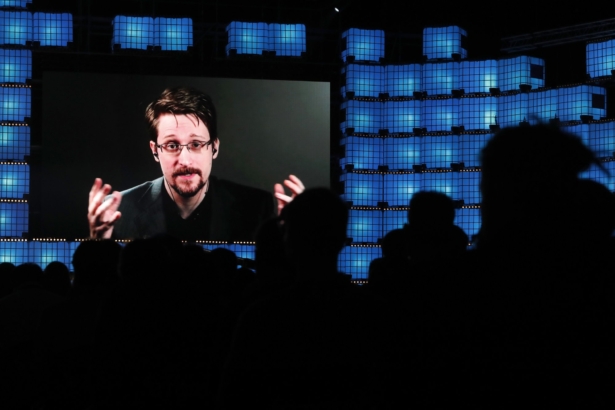 'Tremendous Damage to National Security'
Snowden leaked documents on the NSA's collection of data that passed through the infrastructure of U.S. phone and internet companies. He also released details about the classified U.S. intelligence budget and the extent of American surveillance on foreign officials, including the leaders of U.S.-allied countries.
Snowden says he made the disclosures because he believed the U.S. intelligence community had gone too far and infringed on civil liberties.
In 2016, the House Intelligence Committee released a declassified version of an investigative report on Snowden (pdf), illustrating what committee leaders described as a reckless disregard for Americans' safety.
The bipartisan report said that Snowden caused "tremendous damage to national security" and that the vast majority of documents he leaked were unrelated to NSA programs that had an impact on the individual privacy of ordinary citizens.
"They instead pertain to military, defense, and intelligence programs of great interest to America's adversaries," the report said.
"A review of the materials Snowden compromised makes clear that he handed over secrets that protect American troops overseas and secrets that provide vital defenses against terrorists and nation-states," the report further noted.
"Some of Snowden's disclosures exacerbated and accelerated existing trends that diminished the IC's capabilities to collect against legitimate foreign intelligence targets, while others resulted in the loss of intelligence streams that had saved American lives," the report said.
Then-Committee Chairman Devin Nunes (R-Calif.) said in a statement accompanying the report's release that Snowden showed "reckless disregard" for "U.S. national security."
U.S. authorities have for years tried to bring Snowden back and arrest him on espionage charges.
'Canceled My Passport to Trap Me Here'
After Snowden posted the secret files, he fled to Russia.
Putin, a former KGB official, publicly stated in 2017 that Snowden was wrong to leak intelligence secrets but didn't believe that he was a traitor to the United States.
Snowden took to Twitter on Dec. 2 to say that the reason he's in Russia is "because the White House intentionally canceled my passport to trap me here."
"They *downed the President of Bolivia's diplomatic aircraft* to prevent me from leaving, and continue to interfere with my freedom of movement to this day," Snowden added, referring to the case of the Bolivian president's jet being forced to land in Austria following a tip-off that Snowden was on board.
At the time, Snowden was seeking asylum in Bolivia and several other countries. U.S. authorities revoked Snowden's passport in 2013, leading to his being stranded in a Moscow airport for weeks as he tried to reach Ecuador.
Since moving to Russia, Snowden has rarely remarked on Russian domestic affairs and reportedly keeps a low profile.
It is unclear whether Snowden has renounced his U.S. citizenship.
Jack Phillips and The Associated Press contributed to this report.
From The Epoch Times