Cartons of fresh peaches, nectarines, and plums sold in dozens of states are being recalled over possible listeria contamination, the Food and Drug Administration (FDA) announced on Jan. 24.
Jac. Vandenberg Inc. of Yonkers, New York, is recalling 1,727 cartons of peaches, 1,207 of nectarines, and 365 cartons of plums due to the possible contamination with Listeria monocytogenes, a germ that can cause serious and sometimes fatal infections for young children, the elderly, and people with weakened immune systems. To date, there are no reports of illnesses linked to the recall.
Jac. Vandenberg, Inc. Recalls Fresh Peaches, Fresh Nectarines and Fresh Plums Because They May Be Contaminted with Listeria Monocytogenes https://t.co/wye0EpVnsR

— U.S. FDA (@FDArecalls) January 25, 2019
The fruits were distributed to a number of states including Alabama, California, Georgia, Illinois, Kentucky, Maine, Massachusetts, Michigan, Mississippi, New Jersey, New York, North Carolina, Ohio, Pennsylvania, South Carolina, Tennessee, West Virginia, and Virginia, according to a notice by FDA.
The possible contaminated fruits are sold in select retail stores at the following locations: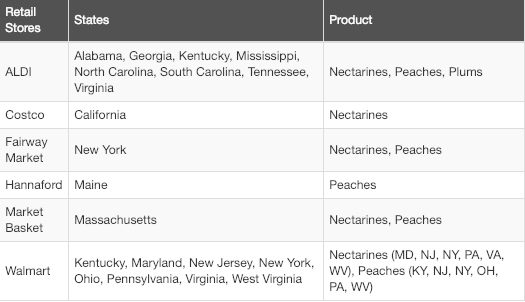 The FDA provided a description of the products being recalled. The peaches and nectarines are sold as a bulk retail produce item with a sticker "PLU# 4044, 3035, 4378" showing the country of origin as Chile. At Aldi, the peaches, nectarines, and plums sold are packaged in a 2-pound bag with the brand Rio Duero with EAN numbers of 7804650090281, 7804650090298, and 7804650090304. While in Costco, the nectarines are packaged in a 4-pound plastic clamshell with the brand Rio Duero and EAN number of  7804650090212.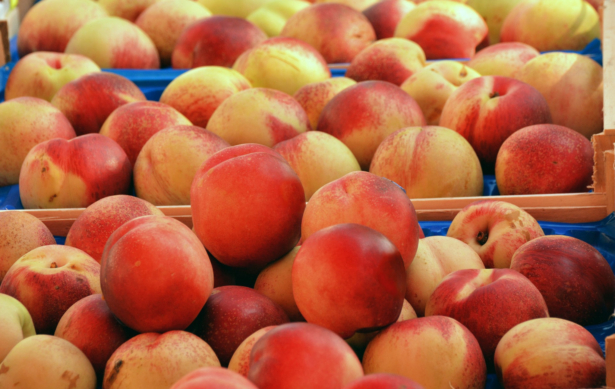 The federal agency said the bacteria was detected during a routine sampling program by a packing house. The company has ceased distribution of the products and is working together with the FDA to investigate the cause of the problem.
Consumers who have purchased the stated products are urged to return them to the place of purchase for a full refund or contact the company at compliance@jacvandenberg.com.
Listeria
Listeria or listeriosis is a serious infection usually caused by eating food contaminated by the germ Listeria monocytogenes. The illness mainly affects pregnant women, young children, the elderly, and people with a weakened immune system, according to the Centers for Disease Control and Prevention (CDC). Invasive listeriosis, meaning the bacteria has spread beyond the gut, is a much more serious version of the disease.
People infected by invasive listeriosis can experience a variety of symptoms, depending on the person and the part of the body affected. It can cause fever, diarrhea, headache, stiff neck, confusion, loss of balance, muscle aches, and convulsions.
Pregnant women suffering from this type of illness typically experience only fever and other flu-like symptoms, such as fatigue and muscle aches. However, infections during pregnancy can lead to miscarriage, stillbirth, premature delivery, or life-threatening infection for the newborn.
"Listeriosis during pregnancy results in fetal loss in about 20 percent and newborn death in about 3 percent of cases," according to the CDC.
According to the CDC, people with invasive listeriosis may require hospital care and about one in five people with the infection die.
The Department of Agriculture's Food Safety and Inspection Service is currently investigating one multistate listeriosis outbreak linked to pork products, which has so far hospitalized four people.