Former Director of National Intelligence John Ratcliffe said Tuesday that graduate schools offering studies leading to a law degree will use the Manhattan District Attorney's Office case against Donald Trump as an example to teach students what not to do.
Ratcliffe, an attorney who served as national intelligence director from 2020 to 2021, said the unsealed indictment of Manhattan DA Alvin Bragg "clearly demonstrates" a politically motivated agenda.
"Legitimate law schools will forever use this indictment to teach the concept of prosecutorial abuse of discretion," Ratcliffe said on Twitter in response to social media personality Mike Cernovich's post, who called the indictment "laughable."
"All Americans, regardless of political persuasions, should condemn this indictment as the travesty of justice and political persecution that it so clearly demonstrates," Ratcliffe added.
Alvin Bragg's unsealed indictment is an indictment of Alvin Bragg. Legitimate law schools will forever use this indictment to teach the concept of prosecutorial abuse of discretion. All Americans, regardless of political persuasions, should condemn this indictment as the travesty… https://t.co/UQshdUftsr

— John Ratcliffe (@JohnRatcliffe) April 4, 2023
On Tuesday, Bragg charged Trump in New York City with 34 counts of felony falsifying business records to the first degree. The former president pleaded not guilty to all charges.
According to a 16-page indictment, released on April 4, the charges against Trump stem from falsified records related to multiple payments made to keep negative information about him concealed, including a six-figure payment made to Stormy Daniels, an adult film actress who has claimed Trump had an affair with her in 2006. Trump has denied claims of an affair.
In a statement released shortly after the arraignment hearing, Bragg said Trump "went to great lengths to hide this conduct, causing dozens of false entries in business records to conceal criminal activity, including attempts to violate state and federal election laws."
For falsification of records charges to be elevated to a felony, New York law states that it must be done "with intent to defraud and intent to commit another crime and aid and conceal the commission thereof."
'Flimsy' Case
While delivering remarks from his Mar-a-Lago estate in Florida hours after pleading not guilty in Manhattan, Trump maintained his innocence, saying Bragg has "no case" against him.
"As it turns out, everyone who has looked at this case, including RINOs, and even hardcore Democrats, says there is no crime and it should never have been brought. Never have been brought," Trump said.
Trump's viewpoint is similar to what many legal experts have addressed, arguing that the New York case might not even make it to trial.
Mike Allen, a former judge and prosecutor in Ohio, told The Epoch Times that "there's a very good chance" that Trump's team will prevail on a motion to dismiss, "which will be filed post-haste."
Allen also thinks the case, on its face, seems "weak," because it's "a mishmash" of statutes—the combining of state falsification-of-records charges with federal campaign finance violations.
Trump's lawyer, Joe Tacopina, also said during an appearance on NBC's "Today" show Wednesday that he doesn't believe the case against the former president will make it to a jury, noting that it will likely "fall on its merits, on legal challenges, well before we got to a jury."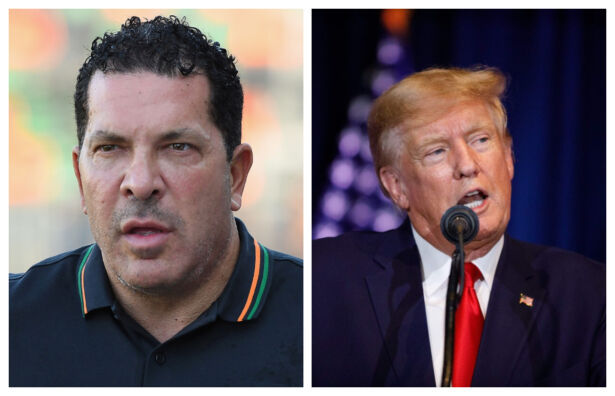 "Understand, these false business record entries, which are not even false, are misdemeanor counts" for which "the statute of limitations is long gone," Tacopina stated on the show. "The only way to make this a felony is to cobble together a couple of misdemeanors—the false business records and the attempt to cover up another crime. But the indictment doesn't even list what the crime is."
Andrew McCarthy, a former federal prosecutor in New York, wrote in a recent article in National Review that the reason Bragg "overcharged" Trump with 34 separate counts is so he can "win" the case in the political realm.
"He just needs a jury to convict on one count," McCarthy wrote. "Then, no matter how flimsy the case Bragg has presented, Trump will be branded a convicted felon. By contrast, Trump can only 'win' if he prevails on all 34 counts."
"Bragg is inflating the number of counts, just like he is inflating trivial misdemeanors into ostensibly serious felonies, because he just needs one," he added.
Janice Hisle contributed to this report.