Oklahoma voters on March 7 rejected a state question that would have legalized recreational marijuana for adults, with more than 60 percent voting against the move.
State Question 820 (pdf) was the result of a signature-gathering drive last year, and would have legalized, regulated, and taxed recreational marijuana in Oklahoma for individuals 21 and over, allowing them to purchase and possess up to 1 ounce of marijuana, plus concentrates and marijuana-infused products.
Recreational sales would have been subjected to a 15 percent excise tax on top of the standard sales tax, according to the bill, and the excise tax would in turn be used to help fund local municipalities, the court system, and public schools via a program aimed at preventing substance abuse and improving student retention and performance.
The tax would also be used to fund drug additional treatment programs and the state's general revenue fund.
However, the measure would not affect an employer's ability to restrict marijuana use by employees or prevent property owners from prohibiting or restricting marijuana use on their property. It would also not affect federal law regarding the psychoactive drug.
Oklahoma legalized medical marijuana in 2018 and currently has over 2,800 licensed dispensaries, with roughly 10 percent of the state's adult population having a medical license to buy and consume cannabis.
A resounding "yes" vote on the latest measure would have made it the 22nd state to legalize adult use of cannabis, joining conservative states like Montana and Missouri that have approved similar proposals in recent years.
Voters Reject Measure
However, 61.7 percent of voters rejected State Question 820 while just 38.3 percent voted "yes," according to The New York Times.
The legalization of recreational marijuana for adults in the state had been supported by advocates and groups including the ACLU of Oklahoma and Oklahomans for Criminal Justice Reform.
They had argued that State Question 820 is a "responsible and conservative approach to legalization tailored to Oklahoma" and would safely regulate and tax marijuana while simultaneously generating "millions of dollars in new funding for important priorities like schools, health care, and public safety."
"State Question 820 will also enact common sense criminal justice reforms, like expungement, so one small mistake doesn't ruin someone's life," the groups said.
Under the measure, products would be "lab-tested, labeled, tracked from seed-to-sale; and employers will be able to maintain a drug-free workplace," according to the groups.
However, Gov. Kevin Stitt, a Republican, nearly every Republican senator, and several law enforcement associations opposed the idea.
"I believe this is the best thing to keep our kids safe and for our state as a whole," Stitt said in a statement on Tuesday following the vote. "Oklahoma is a law and order state. I remain committed to protecting Oklahomans and my administration will continue to hold bad actors accountable and crack down on illegal marijuana operations in our state."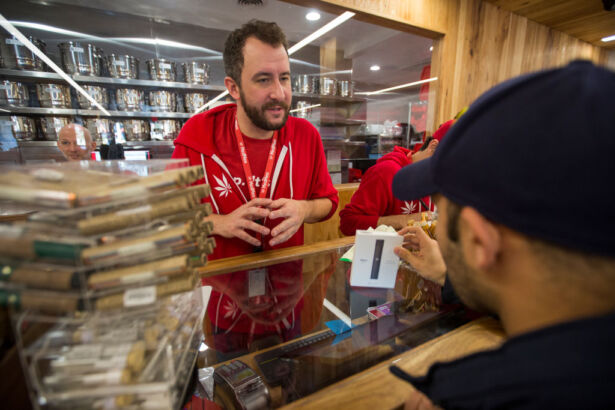 Addiction, Mental Health Issues Tied to Drug Use
"We're pleased the voters have spoken," said Pat McFerron, a Republican political strategist who ran the opposition campaign. "We think this sends a clear signal that voters are not happy with the recreational nature of our medicinal system. We also think it shows voters recognize the criminal aspects, as well as the need for addressing mental health needs of the state."
Elsewhere, Sheriff Vic Regalado pointed to a growing "addiction problem" in the United States which he said was also impacting Oklahoma.
"In fact, we continue to break records in overdose deaths and we're going to make it easier for the addict to have drugs? We're going to enable the addict and yet they're gonna tell you that the money made from 820, they're going to help with addiction, education, things like that. It's incredible the things that they're saying," said Regalado.
He added that there is a "direct correlation between drug use and crime" as well as mental health and said he believes the passing of State Question 820 would have made those issues an even bigger concern.
However, supporters of the bill said that despite Tuesday's result, full marijuana legalization is not a question of "if" but "when."
"There are almost 400,000 Oklahomans—that's almost 10 percent of our population—using marijuana legally; there are many thousands more using marijuana acquired off the illicit market," said Michelle Tilley, campaign director for Yes on 820.
"A two-tiered system, where one group of Oklahomans is free to use this product and the other is treated like criminals does not make logical sense. Furthermore, the cost in lost revenue and lives disrupted by senseless arrests hurts all of us. We will continue to advocate for change, and we are confident that, sooner rather than later, change will come, as it has in 21 other states," Tilley said.
The Associated Press contributed to this report.
From The Epoch Times