Republican-led states are gradually committing more of their state's National Guard troops and law enforcement officers to support operations to secure portions of the U.S. southern border.
The troop and police deployments come as border officials are still evaluating how the repeal of Title 42 impacts cross-border traffic flow into the United States. Following the outbreak of COVID-19, U.S. officials invoked Title 42 to turn away and expel migrants under public health justifications.
Many red state troops and police officers are headed to Texas, where Republican Gov. Greg Abbott has been using his state's National Guard and police resources to set up razor wire fences and other barriers along their border with Mexico. Texas Department of Public Safety (DPS) officers and National Guard troops were seen turning people back earlier this month after they attempted to cross into the U.S. illegally.
Twenty-four Republican state governors signed a letter of support for Abbott's border control mission on May 16. The signatories included Alabama's Kay Ivey, Alaska's Mike Dunleavy, Arkansas's Sarah Sanders, Florida's Ron DeSantis, Georgia's Brian Kemp, Idaho's Brad Little, Iowa's Kim Reynolds, Indiana's Eric Holcomb, Missouri's Mike Parson, Mississippi's Tate Reeves, Montana's Greg Gianforte, Nebraska's Jim Pillen, North Dakota's Doug Burgum, New Hampshire's Chris Sununu, Nevada's Joe Lombardo, Ohio's Mike DeWine, Oklahoma's Kevin Stitt, South Carolina's Henry McMaster, South Dakota's Kristi Noem, Tennessee's Bill Lee, Utah's Spencer Cox, Virginia's Glenn Youngkin, West Virginia's Jim Justice, and Wyoming's Mark Gordon.
DeSantis was among the first red state governors to pledge specific resources to Abbott's border security mission. On May 16, DeSantis announced his state would send 800 Florida National Guard soldiers, 200 Florida Department of Law Enforcement officers, 20 Florida Fish and Wildlife Conservation Commission officers, and 20 Emergency Management personnel to Texas. DeSantis also pledged five fixed-wing aircraft, two mobile command vehicles, 17 unmanned aerial vehicles (drones) 10 watercraft.
On May 17, Reeves announced he had mobilized the Mississippi National Guard's 112th Military Police Battalion to support Customs and Border Protection (CBP) officers and agents along the Southwest border.
Tennessee, Nebraska Latest To Join
On Wednesday, Lee announced he had authorized the deployment of 100 Tennessee National Guard troops to the border. Lee said these troops would patrol and provide an added security presence at the border, help staff outposts, and assist in road and route clearance, barrier placement, and debris removal.
"America continues to face an unprecedented border crisis that threatens our nation's security and the safety of Tennesseans," Lee said of the deployment.
"The federal government owes Americans a plan to secure our country, and in the meantime, states continue to answer this important call to service. I am again authorizing the Tennessee National Guard to help secure the Southern border, and I commend these troops for providing critical support."
Pillen announced he had also authorized the deployment of 10 state troopers to the Texas border on Wednesday.
"Our nation has a serious and unchecked threat on its hands following President Biden's decision to end Title 42," Pillen said.
"Nebraska is committed to using every tool in its tool box to help stop the influx of illegal immigration at our southern border. Illegal immigration hurts our nation's security, undermines the rule of law, and threatens the wellbeing of our state."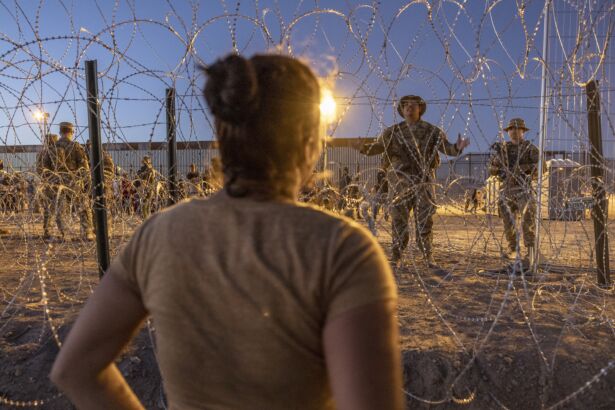 What's Happening at Border?
Before the end of Title 42, the Biden administration implemented a policy (pdf) disqualifying people from applying for asylum in the United States if they didn't first seek protection in countries they passed through on their way to the United States.
The Biden administration has also developed a parole program that allows immigrants to enter and work in the United States for up to two years. The Biden era rules state that those who still ignore the border and illegally cross will be returned and disqualified from future entry under the parole program.
While federal border authorities and officials in border communities have braced for a surge in border crossings, it's not entirely clear that such a surge has emerged since the end of Title 42.
According to the U.S. Department of Homeland Security (DHS), the number of migrants encountered at the southern border fell by about 50 percent in the first three days after Title 42 expired compared to the traffic in the days leading up to the end of the policy.
Last week, DHS Assistant Secretary for Border and Immigration Policy Blas Nunez-Neto said it's "still too early to draw firm conclusions" about post-Title 42 immigration and border security trends.