Travelers face more hardship as Southwest Airlines has canceled nearly 2,400 flights as of Thursday morning—putting the tally at around 15,000 over the course of a week—as the company has struggled to stabilize operations amid a harsh winter storm.
As of 8 a.m. New York time on Thursday, Dec. 29, Southwest canceled 2,357 flights and delayed 58, according to data from FlightAware.
Since late last week, well over 10,000 Southwest flights have been canceled—far more than any other carrier.
"All the flexibility and planning that we put in place to deal with the storm just wasn't enough," Southwest Chief Commercial Officer Ryan Green said in a Dec. 28 video message, in which he offered an apology to customers whose travel was disrupted. 0;34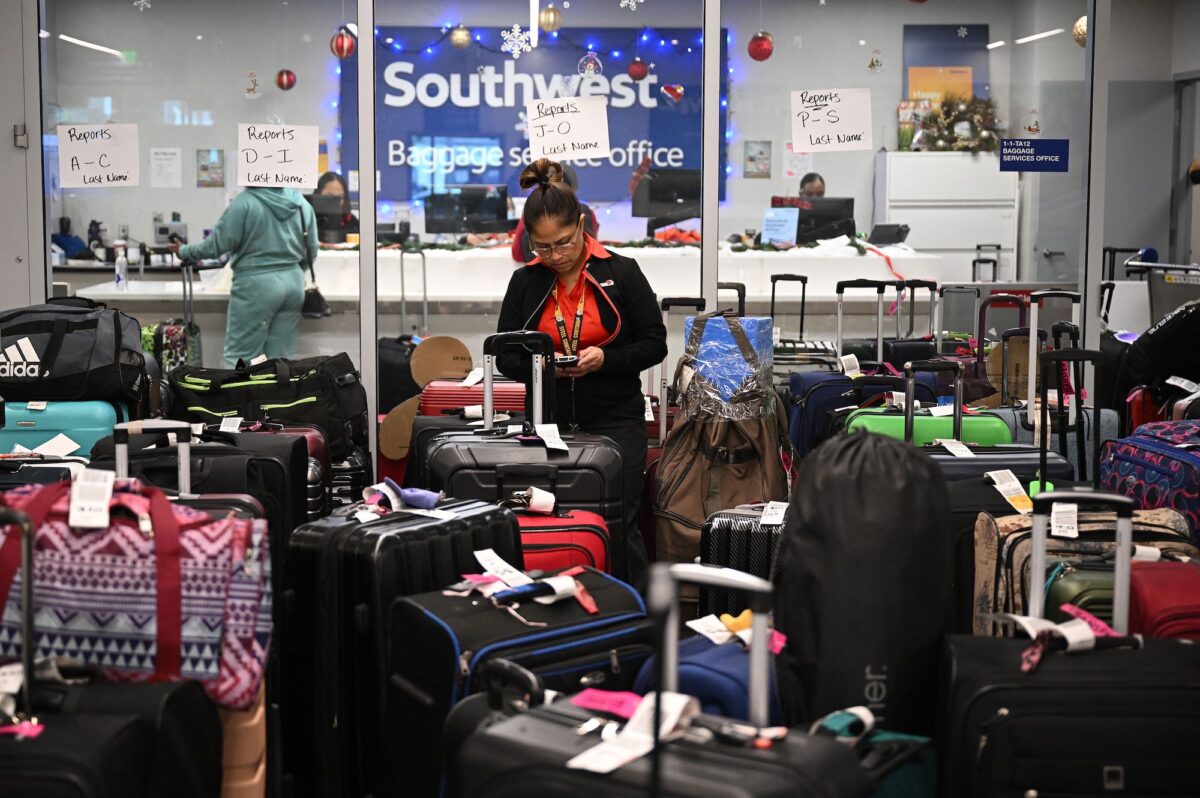 Green pledged to do "everything we can and to work day and night to repair our relationship with" customers, while announcing Southwest was offering additional resources on its website for people to submit receipts for travel expenses incurred in disrupted travel for refunds, or share information to get delayed bags returned more quickly.
'Truly Sorry'
The airline's chief executive warned of more disruptions this week before things get back to normal.
"Our plan for the next few days is to fly a reduced schedule and reposition our people and planes, and we're making headway and we're optimistic to be back on track before next week," CEO Bob Jordan said in a news release on Tuesday evening.
Jordan said the reason Southwest was affected more than other airlines amid the bitter cold snap is because it's the biggest carrier in the country and its network is "highly complex" and its operations count on "all the pieces, especially aircraft and crews, remaining in motion."
Southwest operates in "Cities where large numbers of scheduled flights simultaneously froze as record bitter cold brought challenges for all airlines," he said, adding that he's "truly sorry."
Jordan said he had spoken with Transportation Secretary Pete Buttigieg "to continue the discussions we've been having with the DOT through the holiday."
Buttigieg said late Tuesday that Southwest's "system really has completely melted down," according to his interview with CNN. "I made clear that our department will be holding them accountable for their responsibilities to customers, both to get them through this situation and to make sure that this can't happen again."
Buttigieg also told NBC News that amid the bevy of Southwest cancellations, it "has clearly crossed the line from what's an uncontrollable weather situation to something that is the airline's direct responsibility."
"From what I can tell, Southwest is unable to locate even where their own crews are, let alone their own passengers, let alone baggage," Buttigieg told CNN. He said he spoke with pilots' and fight attendants' unions about the fracas.
"While all of the other parts of the aviation system have been moving toward recovery and getting better each day, it's actually been moving the opposite direction with this airline," added Buttigieg.
Around the same time, President Joe Biden warned that airlines that have canceled flights this week will face accountability, although he did not elaborate how.
Southwest shares have fallen around 11 percent this week, a far greater plunge than other U.S. airlines.
Jack Phillips contributed to this report.
From The Epoch Times