The Texas Senate on May 29 adopted a resolution calling for Texas Attorney General Ken Paxton's impeachment trial to begin by August.
The resolution, authored by state Sen. John Whitmire, a Democrat, passed unanimously.
Under the resolution (pdf) a seven-member committee will be appointed to prepare and present rules of procedure for consideration to the Senate by June 20 and a date for the trial, which will be presided over by Texas Lt. Gov. Dan Patrick, has been set for no later than Aug. 28.
On that date, the Texas Senate will convene as a "court of impeachment" according to the measure.
The resolution comes after the Republican-controlled Texas House voted 123–23 to adopt 20 articles of impeachment, including allegations of false statements, bribery, and abuse of public trust, against Paxton on May 27 following hours of debate.
As a result, Paxton, who is only the third sitting official in Texas's nearly 200-year history to have been impeached, has been temporarily suspended from office pending his trial in the Senate, where his wife, Angela Paxton, is a senator.
A two-thirds Senate vote is needed to permanently remove him from office. The Senate is comprised of 19 Republicans and 12 Democrats.
The 20 articles of impeachment accuse Paxton of conducting a "sham investigation" into whistleblower complaints made by employees at his office whom he allegedly fired in retaliation for reporting him to federal law enforcement for alleged "illegal acts and improper conduct."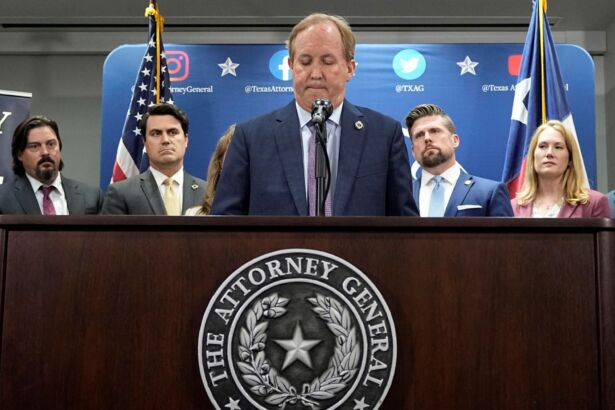 Articles of Impeachment
The whistleblowers accused Paxton of improperly issuing legal opinions to benefit real estate developer Nate Paul and had previously reached a tentative settlement agreement with Paxton for $3.3 million, which prompted the Texas House committee investigation.
"Specifically, Paxton benefited from Nate Paul's employment of a woman with whom Paxton was having an extramarital affair. Paul received favorable legal assistance from, or specialized access to, the office of the attorney general," the articles of impeachment state.
The articles also accuse Paxton of having benefited from Paul providing renovations to Paxton's home in exchange for "favorable legal assistance" and "specialized access" to the office of the attorney general.
Other charges date back to Paxton's pending 2015 felony securities fraud case, shortly after he won his first attorney general election, and include making false statements to state investigators.
"After Paxton was elected attorney general, Paxton was indicted by a Collin County grand jury for engaging in fraud or fraudulent practices in violation of The Securities Act (Title 12, Government Code)," the impeachment articles state. "Paxton then concealed the facts underlying his criminal charges from voters by causing a protracted delay of the trial, which deprived the electorate of its opportunity to make an informed decision when voting for attorney general."
Paxton, a longtime ally of former President Donald Trump, was reelected to a third term as attorney general in November.
He has denied the charges and said the impeachment vote was based on "totally false claims."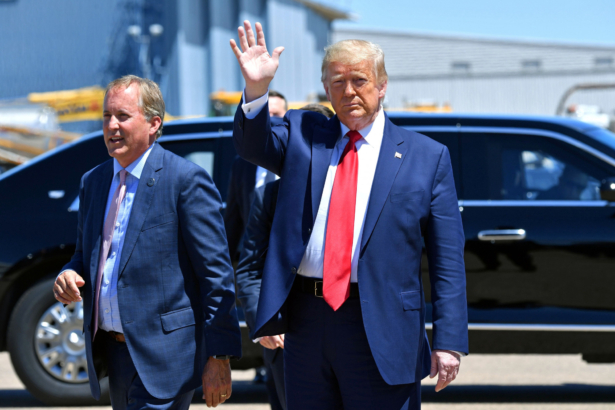 'Politically Motivated'
"The ugly spectacle in the Texas House today confirmed the outrageous impeachment plot against me was never meant to be fair or just," he said in a statement on Saturday. "It was a politically motivated sham from the beginning."
"My office made every effort to present evidence, testimony, and irrefutable facts that would have disproven the countless false statement and outright lies advanced by Speaker Dade Phelan and the Murr-Johnson panel he appointed. Unfortunately, they refused to consider anything that would interfere with their desired result," Paxton wrote.
"I look forward to a quick resolution in the Texas Senate, where I have full confidence the process will be fair and just," Paxton added.
Elsewhere, Trump denounced Paxton's impeachment.
"The RINO [Republican In Name Only] Speaker of the House of Texas, Dade Phelan, who is barely a Republican at all and failed the test on voter integrity, wants to impeach one of the most hard-working and effective Attorney Generals in the United States, Ken Paxton, who just won reelection with a large number of American Patriots strongly voting for him," Trump stated on Truth Social on Saturday.
"You would think that any issue would have been fully adjudicated by the voters of Texas, especially when that vote was so conclusive," he added.
Speaking at a press conference Monday, Republican state Rep. Andrew Murr, the chair of the House General Investigating Committee, said the probe into Paxton is "not about politics" but "facts and evidence," adding that the process will be managed with "the weight and reverence that it requires."
From The Epoch Times