Former President Donald Trump will deliver a speech at the Republican state convention in Georgia on June 10, his first public appearance after his federal indictment in the classified document probe.
Republican governor Brian Kemp and his cabinet are not expected to attend the convention, which kicked off on June 9. Kari Lake, a prominent Trump ally, will give the keynote address on the evening of June 9 at 7:30 p.m.
The Republican leader of one of the state's biggest counties underplays any rift and frames the gathering enthusiastically as a big tent with a lot of excitement coming up.
A Democrat political strategist in Atlanta sees Kemp, a term-limited lame duck as governor, still firmly in control of the state and promising to be a factor in the 2024 presidential race, the 2026 senatorial race, or both.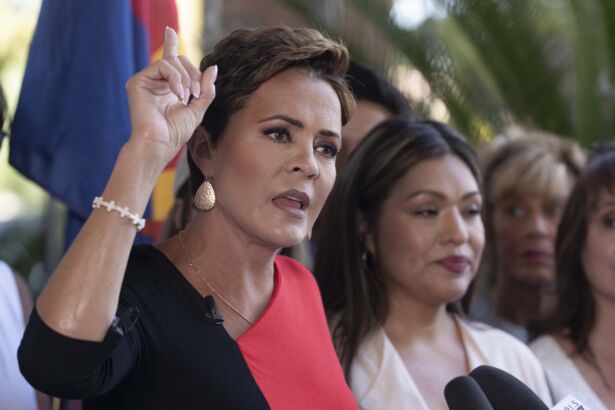 But a veteran political scientist at the University of Georgia does see a rift, one between the party's pro-Kemp leadership and its pro-Trump grassroots.
The backdrop is the rift between Kemp and Trump dating back to Georgia's disputed 2020 presidential election.
Trump—in his telephone call to Secretary of State Brad Raffensperger on Jan. 2, 2021—alleged that irregularities accounted for his loss in Georgia.
Raffensperger defended the election as honest, and Kemp all along backed him up. The call became one of the events cited in Trump's second impeachment on a charge of insurrection.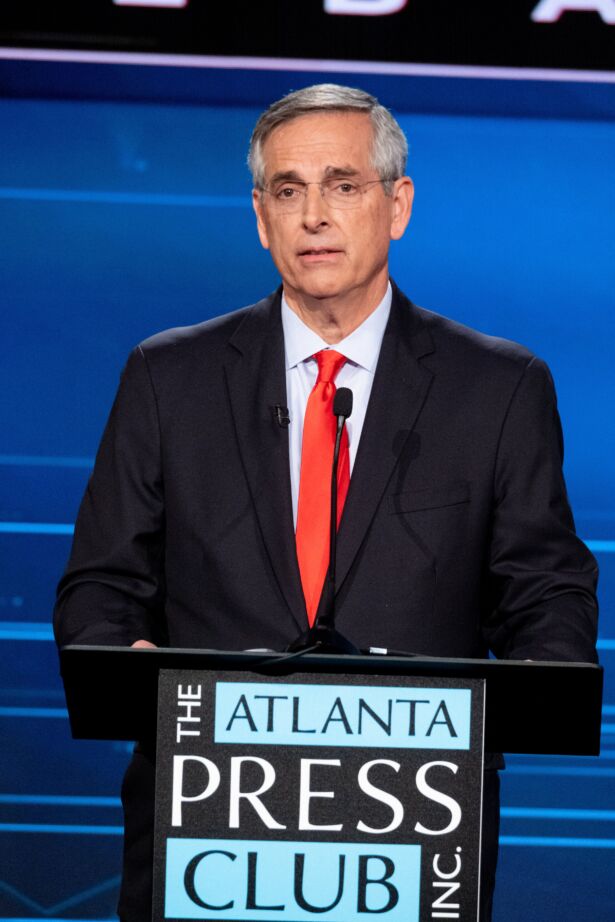 Trump tried to get even last year, backing primary candidates against both men. Raffensperger defeated his Trump-backed challenger Jody Hice by more than 18 points and with 52 percent of the vote. He'd needed crossover Democrat votes to win, though. Kemp defeated his opponent, former Sen. David Perdue, by a 3 to 1 margin. Both cruised to victory in November.
Kemp's victory has been seen as a template for Republicans running against Trump or separating themselves from the controversial former president, who meanwhile need to hold Trump's significant crowd of MAGA loyalists.
The formula seems to be not mentioning Trump much, ignoring his attacks, occasionally defending him in his legal battles, running on a solidly conservative record, and avoiding alienating a Trump base still devoted to him.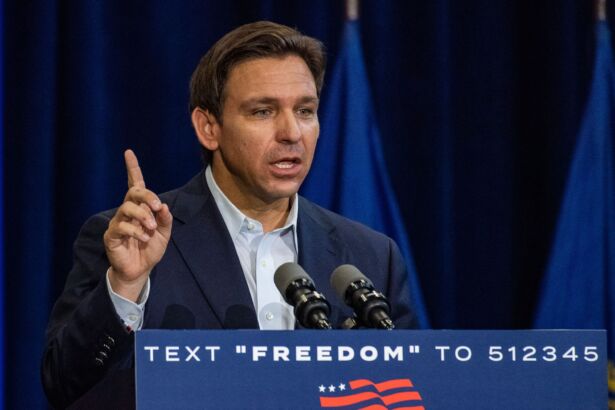 It's one Florida Gov. Ron DeSantis has followed more or less, although he's begun responding more forcefully to Trump's attacks since declaring his candidacy on May 24.
Kemp had a tougher job in one way: Georgia could have tipped the election toward Trump. Many party activists continued to think it had been stolen and couldn't understand why a Republican governor and secretary of state didn't overturn it.
But Kemp in November wasn't running against Trump or a Trump surrogate. He was running against Stacey Abrams, whom Republicans love to hate, and the Trump voters came home to vote for him.
"The party structure has been taken over by a very conservative group well to the right of Raffensperger and Kemp," said UGA's Charles Bullock. "They seem to be thinking along the lines that the elected members may be RINOs," or (Republicans In Name Only.)
But the party activists, in turn, may be out of step both with the party's leaders and its rank and file voters, Bullock said.
"There was a disconnect between how well the non-Trump candidates did in 2022 while out of favor with the party activists, but not the rank and file voters," he said.
"Kemp and Raffensperger would do very well."
Kemp won his rematch with Abrams, who he'd only narrowly beaten in 2018, by a comfortable 7.5 percent of the vote. Raffensperger won over Democrat Bee Nguyen by nearly 10 percentage points, more than double his election margin over his Democratic opponent John Barrow in 2018.
Bullock said the convention, even if Trump loyalists control it, doesn't pose Kemp much threat.
The political scientist said he could see only one possible pitfall: if the statewide party seizes control of the ballot. It's currently open to anyone who files the proper paperwork and pays a fee at the local courthouse, he said.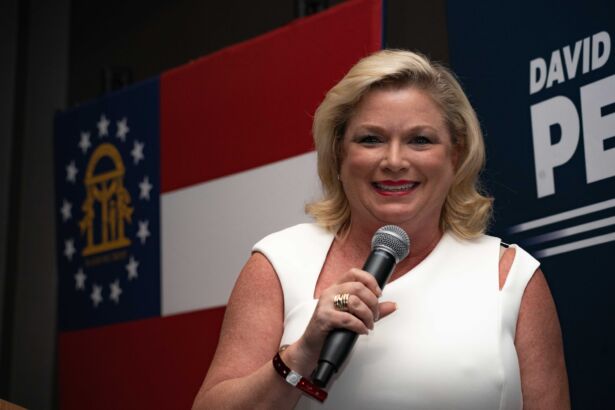 If the activists take over, they could make it difficult for Kemp, or others like Raffensperger, to seek future office as Republicans. Kemp has said he's not running for president in 2024 but is said to be considering a challenge in 2026 when Democrat Sen. Jon Ossoff is up for reelection.
Parties sometimes reject a candidate running under their banner, Bullock said. "The classic example is David Duke, the Klansman, running as a Republican (in Louisiana). Everyone from President Bush on down said, he's not a Republican."
Duke ran in 1991 against the colorful but flagrantly corrupt—he would later serve eight years in federal prison—Edwin Edwards, who was seeking his fourth non-consecutive four-year term.
Popular bumper stickers supporting him bore legends like "Vote for the Crook: It's Important" and "Vote for the Lizard, not the Wizard."
DeKalb County GOP Chairwoman Marci McCarthy downplayed the rift. She spoke with The Epoch Times by cell phone while at a dinner in Columbus on June 8, the day before the convention started.
McCarthy is seeking election as the party's first vice chairwoman and has been campaigning for it in recent months.
"It's being mischaracterized," she said. "It's historic. We have President Trump coming. There's excitement and enthusiasm."
The gathering is not a Trump coronation, she said, with two of his rivals, Asa Hutchinson and Vivek Ramaswamy, also attending.
"We also have our Congressional delegation coming—Marjorie Taylor Greene, Barry Loudermilk, Rich McCormick—and the lieutenant governor, Burt Jones, and [former senator] Kelly Loeffler."
"It's a really great representation of the Republican Party coming to Columbus. We're really proud of our convention. It's really packed and energized. There will be flag waving and parades, with President Trump's arrival, from the airport to the convention center. It's like CPAC. It's amazing, and it's the Georgia GOP."
"The convention is not about a fractured party," she said. "We have 70 percent new delegates. There's a tremendous amount of momentum and interest. We're being the change we wanted to be. The fact is, we're widening the tent. The Georgia GOP is being inclusive, not exclusive."
Democratic strategist Fred Hicks of Atlanta, commenting on the party he does battle with regularly, disagreed with McCarthy.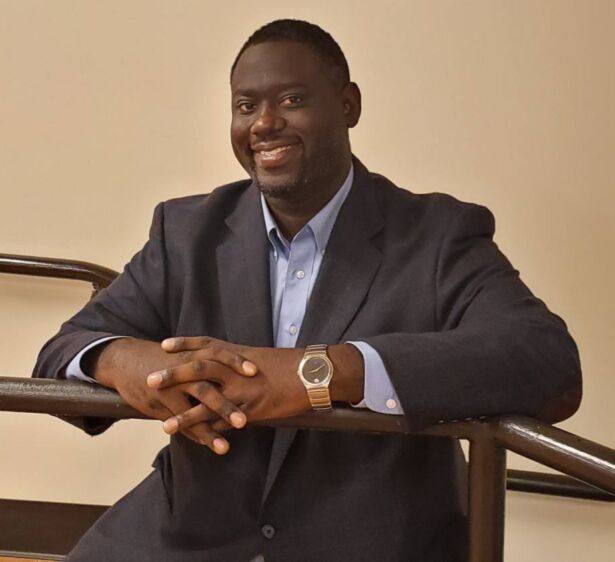 "There's a clear division in Georgia between the Trump Republicans and the Kemp Republicans," said Hicks, who works primarily on local races and ballot initiatives.
He cited Trump's loss in 2020 and his role in the Senate runoffs in early 2021, just before Jan. 6, when both Loeffler and Perdue lost their races and Senate seats after Trump urged Republicans to stay home.
Kemp, meanwhile, widened his margin in 2022 against Stacey Abrams.
"A lot of Republicans feel Georgia would have stayed red with the Kemp approach. With the Trump approach, it goes purple."
Hicks attributed Kemp's absence from Columbus this weekend to his "steering clear of the wing of the party that has not had a lot of success lately."
And he sees Kemp in a commanding position as a Republican in Georgia. He's raising money, and while one of his PACs can only be used for the gubernatorial campaigns, the other two have much more latitude and can receive unlimited donations, Hicks said.
And Kemp may play a kingmaker role in the party nomination, Hicks said.
Georgia's primary, coming a week after Super Tuesday, "will absolutely be a factor in determining who goes on to win the nomination," he said.
"He can increase Republican turnout and influence who gets it. It brings them significantly closer to the nomination."
Bullock said polls show Trump has a substantial lead over DeSantis for the nomination, but less in Georgia—around 10 points—than in other states, where it's 20 to 30 points.
"Kemp is an ideal running mate for anyone," including Ron DeSantis, Hicks said. "Kemp is the face of the successful, not-Trump wing of the party.
"If DeSantis wins, he has to bring Republicans home. Kemp has successfully done that. As [former New Jersey governor and Republican candidate] Chris Christie says, 'it's impossible for a Republican to win in November (2024) without Georgia.'"
DeSantis has alienated some corporate partners with his feud with Disney, Hicks said. "Kemp is a traditional Republican. Corporations are fine with supporting him.
"Brian Kemp is an ideal running mate for any non-Trump candidate. I would argue that DeSantis actually needs a Brian Kemp."
"Kemp Republicans say he's about the present and the future," Hicks said. "Trump is about the past."
From The Epoch Times