There was nothing wrong with military members bringing "Make America Great Again" hats to get them signed by President Donald Trump when he visited Airmen at the Ramstein Air Base in Germany on Dec. 26, the Air Force said.
"There is no rule against Airmen bringing personal items to be signed by the president," the U.S. Air Forces in Europe told Stars and Stripes in a statement.
"Any time the commander in chief offers the opportunity to meet with Airmen, such as this official holiday visit by the President and First Lady, Airmen are welcome to participate. No policy violations have been brought to our attention at this time."
President Trump and First Lady Melania Trump were greeted with cheers at the Air Base as they posed for pictures with the troops, signed autographs, and spoke with members of the military.
Speculation fueled by claims by reporters and pundits on cable television that military members violated military rules by bringing "Make America Great Again" hats and other gear with them prompted the statement by the Air Force.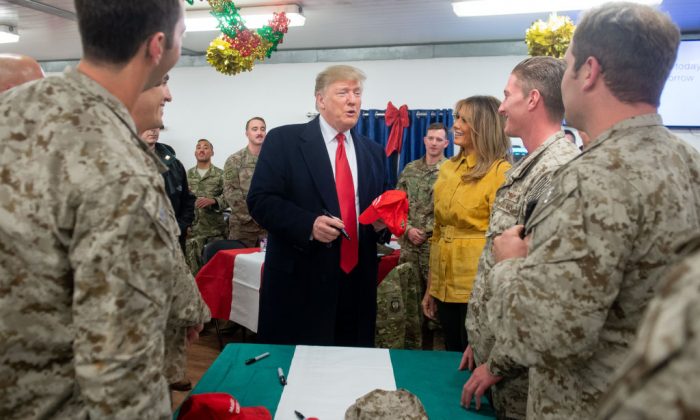 Despite some people claiming the display violated a rule that prohibits military members from taking part in partisan political activities while in uniform, the Air Force noted that the troops held the hats for signing but did not wear them in uniform.
Patrick Hughes, a former active duty Air Force JAG, said that it was not at all clear whether the actions amounted to a policy violation, noting that the troops were not attending a political rally but greeting the commander-in-chief.
"The purpose of the event was to greet the Airmen while his plane refueled," Hughes said. "This is why I believe the question as to whether these Airmen have done anything prohibited by law or regulation is less certain."
He added, "I think it remains debatable and no certainty that any laws or regulations were violated here, and I think at most some informal counseling on the above perception issue is warranted."
The lack of proof of a policy violation didn't stop numerous reporters and cable news analysts from ranting about the gear, with some bringing up the possibility that Trump himself brought the hats, an assertation for which there was no evidence.
The speculation came after false reports on Trump's troop visit, with media quickly pivoting from one stance to another.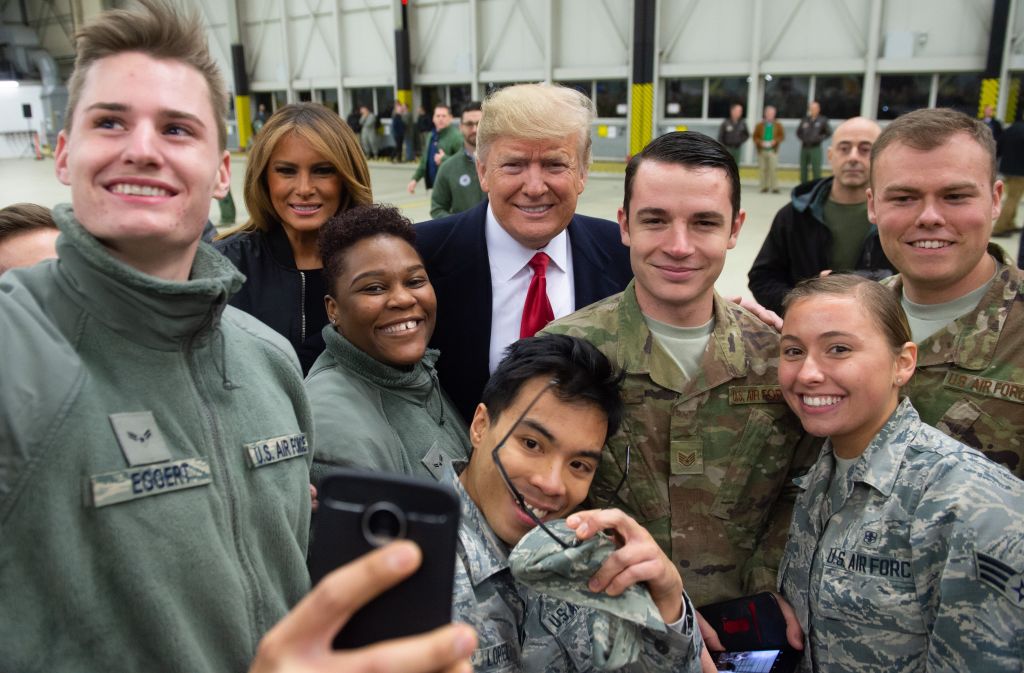 Trumps in Iraq
Prior to stopping in Germany, the Trumps visited troops in Iraq for Christmas. Some troops there also brought hats for the president to sign.
Trump told reporters that he wanted to visit to honor the troops.
"I want to come and pay my respects most importantly to the great soldiers, great troopers we have here."
He gave a speech telling them that he'd had great meetings on base and saying the troops liked to win, noting that he'd signed off on billions of dollars in new equipment.
"Your eyes are popping," he said. He added that the troops had recently gotten a big pay raise.
Trump also told the troops that because of their sacrifice, Americans can live in peace. "The best way to have peace is strength," he said.
"We're no longer the suckers, folks," Trump added. "We're respected again as a nation."