The Australian government confirmed late Jan. 23 that Chinese-Australian writer Yang Hengjun has been detained in China, just as Australia's Defence Minister Christopher Pyne embarks on an official visit to Beijing.
The Department of Foreign Affairs and Trade was alerted on Jan. 23 that Yang, a novelist and influential online commentator, had been detained.
"On 23 January the Chinese authorities informed the Australian Embassy in Beijing that they have detained Mr Yang Hengjun," a statement on DFAT's website reads. "The Department is seeking to clarify the nature of this detention and to obtain consular access to him, in accordance with the bilateral consular agreement, as a matter of priority."
On the afternoon of Jan. 23, the Sydney Morning Herald (SMH) and The Age reported that Yang had been detained by 10 security agents after he touched down in Guangzhou, China, from New York.
Dr. Feng Chongyi, an academic in Chinese studies at the University of Technology, Sydney, (UTS) told Australia's Financial Review (AFR) that Yang had returned to China from New York with his wife, Yuan Rui Juan, and their daughter, while they waited for an Australian visa. According to SMH, it is understood that Yang was trying to bring his wife and young daughter to Australia under a family reunion visa.
Feng told AFR via phone he was told by contacts in China that Yang is being held by Beijing's Ministry of State Security (MSS). "The charge is espionage," he said.
Feng had himself been held without charge by the Chinese authorities in China during a visit in 2017 for "national security reasons."
The trio arrived in Guangzhou early on Jan. 20 and was scheduled to fly to Shanghai a few hours later. But Yang never boarded that flight.
"A close friend of Yang's has told reporters that Yang and his wife were interrogated by authorities for over 12 hours after arriving at the airport in the southern city of Guangzhou," NPR's Rob Schmitz reported from Shanghai. "Yang's wife was allowed to leave for Shanghai, but authorities reportedly held on to him."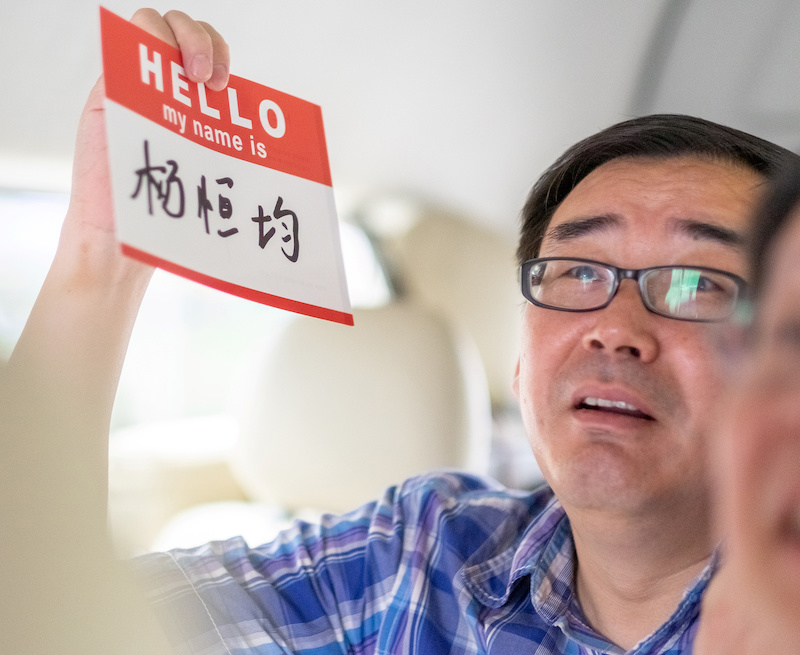 Yang, an Australian citizen since 2002, immigrated to Australia from China. He had previously worked in different arms of the Chinese Communist Party (CCP) including the Ministry of Foreign Affairs in the United States and Hong Kong. He later completed a Ph.D at UTS. Yang spent the last two years in New York City as a visiting scholar at Columbia University, according to PEN America.
According to SMH, Yang had told Feng, who is a close friend, that he didn't think he would be a target for the MSS.
Feng, who had supervised Yang's doctorate at UTS, told SMH that Yang believed he had "done nothing to offend the authorities over the last two or three years."
But Feng told Australia's ABC radio, "I advised him not to go there … The risk is too high."
CCP 'Behaving Like Terrorists'
On Jan. 24, Feng told the Guardian: "[The Australian government] should be very, very firm on this because the Chinese government is behaving like terrorists."
Yang is known for his spy thriller "Fatal Weakness" trilogy as well as his online writings on politics and society. Yang has previously criticized what he described as interference by the CCP in Australia, according to Reuters. According to SMH, he has been an advocate for democratization and reform in China.
"It's obvious that Yang would not have been seized if it weren't for his previous critical writings," Summer Lopez, PEN America Senior Director of Free Expression Programs, said. "Yang's seizure is yet another indicator that the Chinese government's repression of free expression extends not only to its own citizens but to citizens of other countries."
Yang Hengjun, an Australian citizen and author, was reportedly seized on Saturday during a visit to China. It's obvious this would not have happened if it weren't for his previous critical writings. https://t.co/U95PRBTRmA

— PEN America (@PENamerican) January 23, 2019
Chinese Foreign Ministry's spokesperson Hua Chunying said she had no knowledge of Yang's case when a reporter asked her on Jan. 22 about his situation.
Australia's Defence Minister Pyne is meeting his Chinese counterpart, the Minister of National Defence General Wei Fenghe, in Beijing on Jan. 24 to discuss regional security and bilateral issues.
"The government is committed to maintaining a long-term constructive relationship with China, founded on shared interests and mutual respect—China and Australia's success will go hand-in-hand," he said earlier this week, according to AAP.
Labor Leader Bill Shorten told the ABC that the situation could not be "sugar-coated."
"This is an Australian citizen who has been detained in China," he said. "I'm very supportive of all efforts to reach out to him, to get to the bottom of what happened, what is happening. But it is very concerning. I can't pretend otherwise.
"We are very supportive of the department's [DFAT's] efforts to reach out to get to the bottom of this … This is not the way which relations between our two countries should be conducted at all."
Links to Huawei's CFO Arrest?
Yang's disappearance comes several weeks after two Canadians, former diplomat Michael Kovrig and businessman Michael Spavor, were detained in China. Chinese authorities claim the two men were detained for posing a risk to China's national security. Communist China's state media outlets reported that both men were detained on Dec. 10, 2018.
On Dec. 1, 2018, Canadian authorities arrested Huawei Chief Financial Officer Meng Wanzhou at Vancouver International Airport at the request of the United States for her involvement in a scheme to use the global banking system to evade U.S. sanctions against Iran.
The detention of Kovrig and Spavor's was widely seen as retaliation by Beijing for Meng's arrest.
Feng told The Washington Post, "My judgment is this is linked directly to the Huawei case." He said he felt it was possible that the officials responsible were taking a harder line against citizens of countries aligned with the United States.
Yang had also disappeared while in China in 2011 for several days, after he had called a friend from Guangzhou airport saying that he was being followed by three men. However, when he resurfaced, he said that he had been "sick, nothing else, and my phone battery was dead for two days so I could not contact my family," according to SMH at the time.
However, SMH also reported at the time that many of Yang's close friends had believed he had been detained by secret police as part of a political crackdown on dissidents. At the time in 2011, a ministry representative had also been asked about Yang's whereabouts, and the representative responded that they had never heard about his situation, according to NPR.
AAP contributed to this report.
Watch Next:
Miss World Canada 2015 Says True Confucian Values Are What Defines China, Not Communism