On the same day the World Health Organization (WHO) declared an end to the global public health emergency for COVID-19, authorities of a subdistrict in China's Dongguan City, Guangdong Province, announced the implementation of 8 days of nucleic acid testing.
Hours after the WHO lifted its alert on May 5, the official WeChat account of Dongcheng Subdistrict in Dongguan issued a notice on the arrangements for nucleic acid testing.
The notice called for nucleic acid testing in Dongcheng Subdistrict from May 6 to 13. Afterward, the authorities will continue to provide nucleic acid testing services at a cost of no more than 13.5 yuan ($1.95).
On May 9, The Epoch Times called the Dongcheng Subdistrict Office to ask about the matter, with a staff member saying: "The superiors arranged this. Those who have demands can take a test voluntarily. It's not mandatory for everyone. Costs are on your own."
The Epoch Times called a B&B in Dongguan, where Tianni (pseudonym), a staff member, answered the phone.
"We don't look at nucleic acid [test results] here," Tianni said. "The health code [system] has been turned off, so what's the point of doing nucleic acid testing?"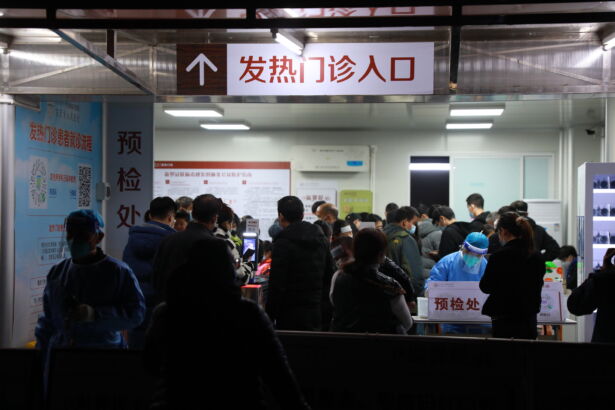 "Perhaps there was a glut of nucleic acid testing paraphernalia, so [they] ask commoners to help consume?" Tianni said, offering a supposition.
"The nucleic acid testing in 2022 has scared everyone, with working people taking the test almost daily. Back then, the shelf life of a human being was shorter than that of a loaf of bread, expiring in less than 48 hours," Tianni said.
"The sudden mention of nucleic acid testing now makes people feel scared and worried about being isolated," Tianni continued.
"After the Labor Day holiday [April 29-May 3], many people had throat problems, such as itching, sore throats, and fever. There are also many people who have relapsed. Perhaps it's targeting these people. We haven't received any notice about mandatory nucleic acid testing yet."
Movement of People
Hu Yang, deputy director of the Department of Respiratory Medicine at Shanghai Pulmonary Hospital, recently told Chinese media that during this period, more COVID-19 patients were visiting the outpatient clinics than in the previous month. Most of them took a rapid antigen test at home. Some relapsed, and some tested positive for the first time. The symptoms of those infected for the first time were a little more severe.
Hu believes that it may be related to the movement of people around the Labor Day holiday.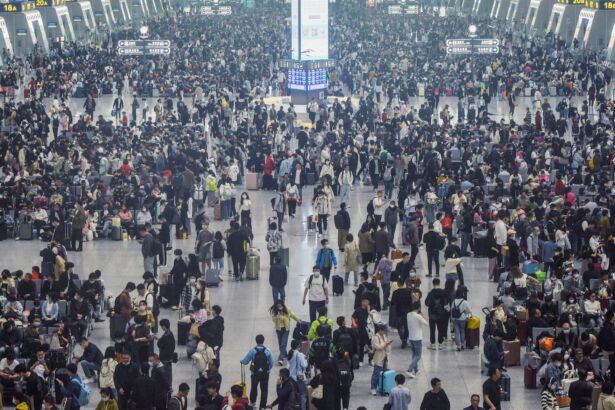 According to Chinese media, the number of patients with upper respiratory tract infections such as fever also increased, most of whom were the elderly with low immunity, preschool children, and patients with chronic diseases. Most of these patients have a high fever above 38℃, even causing pneumonia and myocarditis.
The number of swine flu patients has recently increased significantly across China, with many patients in hospitals, Chinese media reported.
Yu Yang (pseudonym), a resident of Changsha City, Hunan Province, said while he only wandered around with his family during the Labor Day holiday, he came back with a fever and weakness. He first thought that he was just tired.
"The next day, I had a temperature of 38.6 ℃, a sore body and throat," Yu told the Epoch Times on May 8. "I took a pill of ibuprofen, but it didn't help. It's been a week now. I had it time after time. With the fever and a sore throat, I don't dare to swallow anything. I'm tired and sleepy."
Wuhan Fever Clinic
Dr. Lin Wen (pseudonym) described the situation where he works at the fever clinic of Wuhan University Hospital.
"There are many patients in the outpatient clinic. The inpatient department is full," Dr. Lin told The Epoch Times on May 6.
"There are also many cases of COVID-19 recurrence recently. Since [the authorities] now manage COVID-19 with measures against Class B infectious diseases and no more nucleic acid testing is being done. There is also no special medicine for COVID-19."
From The Epoch Times