Fulton County District Attorney Fani Willis gave former President Donald Trump and the 18 other defendants who were charged Monday until noon on Aug. 25 to surrender.
Ms. Willis announced the surrender date in a press conference on Monday evening after a Fulton County, Georgia, grand jury handed down charges against the former president. Meanwhile, the district attorney said that a trial would likely take place within the next six months, which would occur in the midst of GOP primary elections.
"Trump and the other Defendants charged in this Indictment refused to accept that Trump lost, and they knowingly and willfully joined a conspiracy to unlawfully change the outcome of the election in favor of Trump. That conspiracy contained a common plan and purpose to commit two or more acts of racketeering activity in Fulton County, Georgia, elsewhere in the State of Georgia, and in other states," the indictment says.
Under the indictment, President Trump and the other defendants are each charged with one count of violating Georgia's Racketeer Influenced and Corrupt Organizations (RICO) Act and allegedly engaged in "criminal enterprise in Fulton County, Georgia—and elsewhere—to accomplish the illegal goal" of keeping the former president in office.
The 18 other individuals listed in the indictment include Rudy Guiliani, John Eastman, Mark Meadows, Kenneth Chesebro, Jeffrey Clark, Jenna Ellis, Ray Stallings Smith III, Robert Cheeley, Michael Roman, David Shafer, Shawn Micah Tresher Still, Stephen Cliffgard Lee, Harrison William Prescott Floyd, Trvian C. Kutti, Sidney Powell, Cathy Latham, Scott Hall, and Misty Hampton.
Ms. Willis, in the conference, claimed that the charges against President Trump and the others were not politically motivated. "I make decisions in this office based on the facts in the law," she said. "The law is completely nonpartisan. That's how decisions are made in every case to date."
However, a statement from the Trump campaign said otherwise, accusing the district attorney of having a partisan animus against him. That statement, meanwhile, accused Ms. Willis of engaging in election interference.
"Ripping a page from Crooked Joe Biden's playbook, Willis has strategically stalled her investigation to try and maximally interfere with the 2024 presidential race and damage the dominant Trump campaign," the statement read. "All of these corrupt Democrat attempts will fail.
"These activities by Democrat leaders constitute a grave threat to American democracy and are direct attempts to deprive the American people of their rightful choice to cast their vote for President," the statement said. "Call it election interference or election manipulation—it is a dangerous effort by the ruling class to suppress the choice of the people. It is un-American and wrong."
It's the fourth time the former president has been indicted this year. He's the first former president in American history to be indicted on criminal charges.
He faces a New York state trial in March 2024 involving a hush money payment, and a federal trial beginning in May in Florida for allegedly mishandling federal classified documents. In both cases, Trump pleaded not guilty.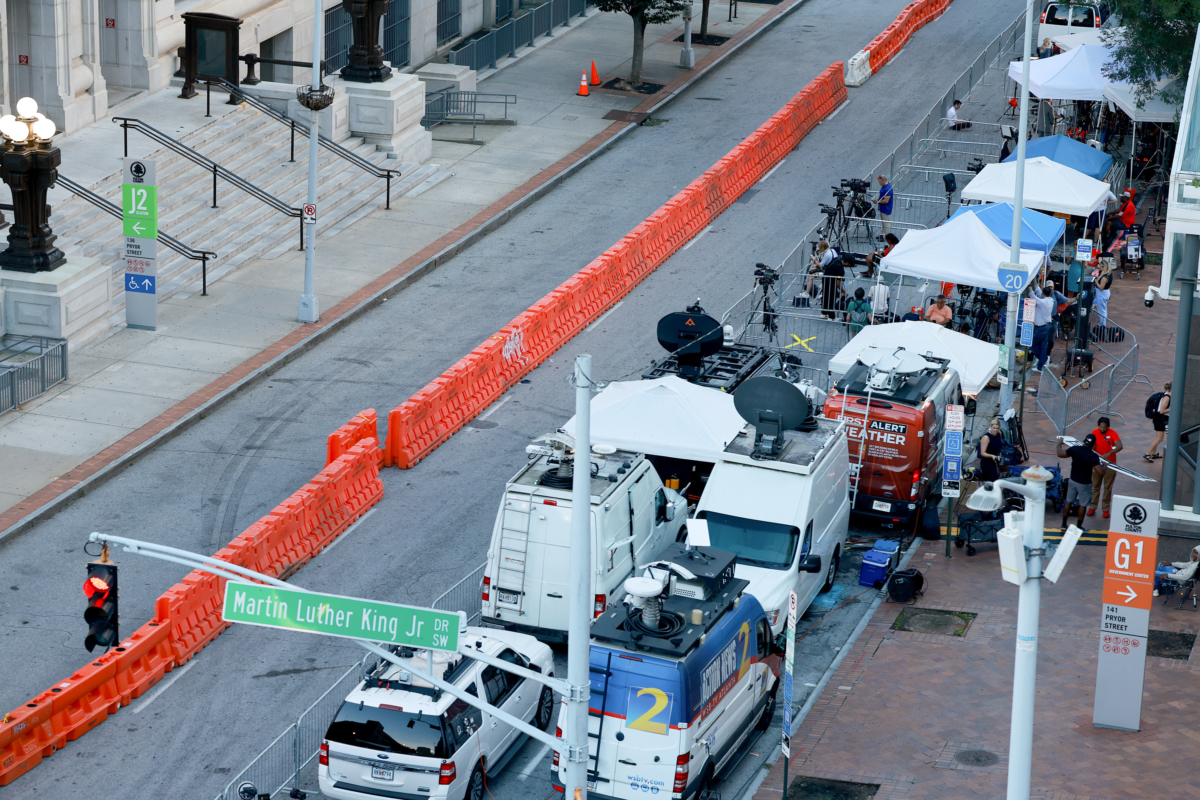 What Happens Next
After defendants in Georgia are indicted by a grand jury, they are arraigned, which is the formal reading in court of the charges. Defendants are also asked to enter a plea. President Trump's attorney could ask the court to waive the arraignment, and he could enter a plea of not guilty without appearing in court.
Bail also will be determined. He likely will be released, probably in exchange for a promise to return to face the charges at trial. The former president will have his mugshot taken upon being taken into custody, Fulton County Sheriff Pat Labat told local media this month.
Legal experts said a delay could benefit the former president, who is seeking the Republican nomination for the Nov. 5, 2024, presidential election. The former president, meanwhile, is likely to challenge the prosecution, claiming it was motivated by political bias.
He may try to move it to another part of the state, arguing the jury pool in Fulton County, which President Joe Biden won with about 73 percent of the vote, would be biased against him.
The process of selecting a jury could be lengthy, given the passionate views many people have of the former president and the amount of time jurors would have to dedicate to the trial. In the ongoing trial in Atlanta of rapper Young Thug, or Jeffery Lamar Williams, jury selection ran for months.
A jury of 12 people from Fulton County must all agree beyond a reasonable doubt that Trump is guilty for a conviction on any count. If the jury cannot reach a unanimous verdict, the judge can declare a mistrial.
Reuters contributed to this report.
From The Epoch Times