The second day of the question and answers in President Donald Trump's impeachment trial commenced Thursday. House managers led by Reps. Adam Schiff (D-Calif.) and Jerrold Nadler (D-N.Y.) dueled with Trump's legal team on the Senate floor.
The Senate adjourned at about 10:45 p.m., wrapping up the question-and-answer phase of the trial. The trial is scheduled to resume on Friday at 1 p.m.
Lamar, Collins Announce Position on Witnesses, Documents
Sen. Lamar Alexander (R-Tenn.)  announced that he will vote against allowing additional witnesses and documents into the Senate impeachment trial.
In a lengthy statement, he wrote that there is "no need for more evidence to prove something that has already been proven and that does not meet the U.S. Constitution's high bar for an impeachable offense."
"Even if the House charges were true, they do not meet the Constitution's 'treason, bribery, or other high crimes and misdemeanors' standard for an impeachable offense," he also wrote.
Meanwhile, Sen. Susan Collins (R-Maine) said she will vote to allow additional witnesses and documents in the trial.
"If this motion passes, I believe that the most sensible way to proceed would be for the House Managers and the President's attorneys to attempt to agree on a limited and equal number of witnesses for each side.  If they can't agree, then the Senate could choose the number of witnesses," she said in a statement.
Sen. Lisa Murkowski (R-Alaska) said she will make a decision on witnesses after she reflects on the recent session.
"I am going to go reflect on what I have heard, re-read my notes and decide whether I need to hear more," she said.
The Senate adjourned at about 10:45 p.m., wrapping up the question-and-answer phase of the trial. The trial is scheduled to resume on Friday at 1 p.m.
House Managers, Trump Lawyers Respond to Question on Bolton Testimony
A question from a number of Republican senators, including Sen. Lindsey Graham and senators who are undecided on the vote on witnesses—Sen. Lisa Murkowski and Sen. Lamar Alexander—asked about the impact of a potential testimony from former national security advisor John Bolton if he was summoned as a witness.
"Assuming for argument's sake that Bolton were to testify in the light most favorable to the allegations contained in the articles of impeachment, isn't it true that the allegations still would not rise to the level of an impeachable offense, and that, therefore, for this and other reasons, his testimony would add nothing to this case?" the question read.
Deputy White House counsel Patrick Philbin said that "assuming for the sake of argument that Bolton testifies" and repeats the alleged assertions Bolton had in his book, saying that "even if that did happen, the articles wouldn't rise to an impeachable offense … Because even the house managers haven't recognized them as involving a crime."
"Even if ambassador Bolton would testify there is no impeachable offense stated in the articles of impeachment," he later reiterated.
Philbin also said that even if Trump really did withhold military assistance aid to Ukraine in exchange for an investigation, the issue at hand regarding the Bidens concerns "a legitimate public policy interest," and therefore the decision to temporarily hold the aid would be "perfectly permissible." However, Philbin noted at the outset that "there was no quid pro quo. There was no evidence to show that."
In response, Schiff suggested that Philbin's response was essentially saying "too bad there is nothing that you can do."
"The President of the United States can withhold hundreds of millions of dollars of aid that we appropriated in violation of the law, in order to help him cheat in an election, and you can't do anything about it except hold up the nomination," Schiff said of the defense team's argument.
"I think our founders would be aghast" at that argument, Schiff said.
GOP Sen. Alexander to Announce Stance on Witnesses
Sen. Lamar Alexander (R-Tenn.), a swing vote regarding the question of witnesses, said he would announce his stance tonight, according to reports.
Trump Calls Impeachment 'Hoax' During Des Moines Campaign Rally
President Donald Trump, during a campaign rally in Des Moines Thursday night, called the Democrat-led push for impeachment a "hoax."
"We're having probably the best years in the history of our country, and I just got impeached. Can you believe it?" he asked the crowd.
He said that "Washington Democrats have spent the last three years trying to overturn the last election." Trump said that he and the American people are "having probably the best years in the history of our country—and I just got impeached. Can you believe it?"
"This is a happy period for us. We call this impeachment-lite," Trump said, later adding, "Today I hit my highest poll numbers since I got elected. The American people, and frankly people around the world, know it is a hoax."
Trump signaled that he was optimistic that Republicans will win the House and Senate in the November presidential elections, and that he would be re-elected.
Trump's Defense On Question of Allowing Bolton to Testify
Senator Lisa Murkowski (R-Alaska) who is undecided on the vote as to whether to allow witnesses, asked a question to the president's counsel about why former national security advisor John Bolton should not be called to testify.
"You explain that Ambassador [Gordon] Sondland and Sen. [Ron] Johnson both said the president explicitly denied that he was looking for a quid pro quo with Ukraine," her question read. "The reporting on Ambassador [John] Bolton's book suggests the president told Bolton both directly and indirectly that the aid would not be released until Ukraine announced the investigations the president desired. This dispute about material facts weighs in favor of calling additional witnesses with direct knowledge. Why should this body not call Ambassador Bolton?"
Patrick Philbin, an attorney on Trump's team, said that the House "could have" pursued Bolton but "chose not to subpoena him."
"[I]t will do great damage to this body as an institution to say that the proceedings in the house don't have to be really complete. You don't have to subpoena the witnesses that you think are necessary to prove your case, you don't really have to put it all together before you bring the case here when you're impeaching the president," he said.
"You don't have to do all of that work before you get to this institution. Instead, when you come to this chamber it can be kind of half-baked, not finished, we need other witnesses, and we want this chamber to do the investigation that wasn't done in the House."
Philbin noted that the reporting on Bolton's unpublished book is "simply alleged now that the manuscript says that—ambassador Bolton hasn't come out to verify that to my knowledge."
"The idea that something comes out that someone makes an assertion in the book … that then we should start having this chamber call new witnesses and establish a new normal for impeachment proceedings as being that there doesn't have to be a complete investigation in the House—I think that's very damaging for the future of this institution," he said.
Trump has said that Bolton's alleged allegations were false.
Graham: Trump 'Will Be Acquitted in a Bipartisan Manner'
Sen. Lindsey Graham (R-S.C.) told reporters that he is "increasingly optimistic" that Republican senators will reach a final verdict before Tuesday.
"The President will be acquitted in a bipartisan manner," Graham also said.
"We're not blocking anybody's witnesses," he added. "We're just not going to legitimize the House choosing not to call a witness, dump it in our lap, and put us in a spot where if you'd called a witness, you'll be bailing the courts out of judicial review of impeachment."
Graham had earlier expressed in an interview with Fox News in mid-January, "I predict a bipartisan acquittal of President Trump."
Trial Resumes After Dinner Break
The trial has resumed after a 45-minute dinner break. Senators have up to two hours and 53 minutes available for questions.
Sekulow, Schiff Comment on Trial Lengths if Additional Witnesses, Documents Allowed
Before senators went to a 45-minute break for dinner, Trump attorney Jay Sekulow and Schiff—responding to different questions—offered different thoughts on the expected length of the impeachment trial should witnesses be allowed.
Sekulow suggested that House managers could drag out the impeachment trial until the U.S. presidential election in November. Responding to a question, the Trump attorney said he does not envision that House managers would consider there has been a fair Senate trial if President Trump was ultimately acquited, suggesting that House managers would continue to call upon witnesses endlessly.
"They will not agree that it's fair because what will happen is if there's a discussion of witnesses and if we go to witnesses … that also includes documents. And that includes other witnesses that it may lead to … at some point you'll say this cannot go on forever and we'll be at the election, [and] this body will say this has to come to an end," he said. "And they [House managers] will say 'aha, it has been brought to an end as we were about to get the key evidence.'" Sekulow also noted that the Democrat-led House already called upon 17 witnesses in the House impeachment inquiry hearings.
"Does this end? Will it ever be enough? It will only be enough if they got a conviction. Because that's what it's about," he later added.
Schiff, in a response to a later question, appeared to reassure senators and Trump's defense team that if witnesses and documents were called, the process involved would not take much additional time. Schiff said that depositions on witnesses could be agreed upon to take about a week.  Meanwhile, documents that House managers subpoenaed have been collected and so could "readily" be presented to the Senate, he said.
"We would have to decide on witnesses who are relevant and probative of the issues. Neither side would have an unlimited capacity to call endless witnesses. We would have a limited period of time," he said.
If there were disputes over witnesses or documents, the Chief Justice could resolve such issues in a short time, Schiff said.
Taking up additional witnesses "could be done very quickly, effectively, we've never sought to depose every witness under the face of the sun," Schiff later added, noting that a select four witnesses have been specified by House managers as "particularly appropriate and relevant" to their case.
GOP Senator: Closing Arguments on Friday
Senate Republican Conference Chairman John Barrasso (R-Wyo.) said there will be four hours of closing arguments in the impeachment trial, scheduled for Friday.
"My understanding is essentially the closing arguments are going to be two hours for each side tomorrow afternoon, probably starting at 1 o'clock, until we're finished with that. Then the vote would occur on the issue of witnesses," Barrasso told reporters at a news conference.
"If we are able to say, 'No, we want to go right now to final judgment,' then we would move in that direction and stay here until that work is decided and completed Friday evening," he added.
There have been conflicting reports and conflicting statements from Democratic and Republican senators about whether either side has enough votes to compel or block witnesses.
In a statement, Barrasso maintained that House managers have not unveiled any new compelling arguments to remove Trump.
"After about 120 questions, it seems to me that the House #impeachment managers have failed to make the case for two articles of impeachment against @realDonaldTrump . I think it's time to vote, & I am ready to vote now," he said.
Recess
Senate Majority Leader Mitch McConnell asked for a 22-minute break until 4 p.m.
Trump Lawyer: Asserting Not a Sign of Guilt
Patrick Philbin, a Trump attorney, told senators that Trump had the right to block documents and witnesses and said it's not an admission of guilt, as some Democratic managers have suggested.
He asked: "Is the president the first innocent defendant not to waive his rights?"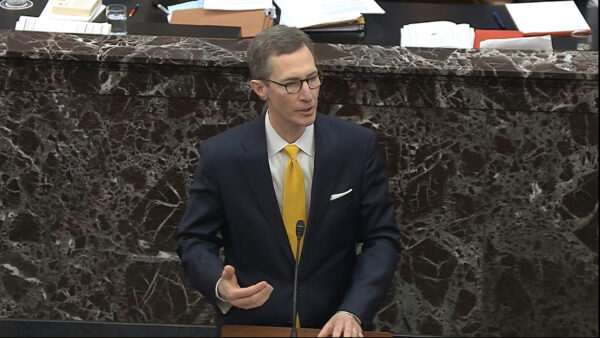 "Only the guilty don't respond to subpoenas" and "this is not the way innocent people act" is what he claimed the Democrats said.
Philbin continued: "Well, of course, that's contrary to the very spirit of our American justice system where people have rights, and asserting those rights cannot be interpreted as an indication of guilt."
He termed the Democrats' accusations as "shocking."
CSPAN noted that more than 110 questions have been asked by senators over the past two days.
Roberts Won't Read Sen. Paul's Question
Chief Justice John Roberts said he will decline to read a question from Sen. Rand Paul (R-Ky.) about the whistleblower.
"The presiding officer declines to read the question as submitted," Roberts said.
Paul on Twitter confirmed that he wanted to ask about the whistleblower at the center of the impeachment inquiry. Some GOP allies of Trump have accused the whistleblower of colluding with Rep. Schiff's office before submitting his complaint to the Intelligence Community Inspector General's office.
"My question today is about whether or not individuals who were holdovers from the Obama National Security Council and Democrat partisans conspired with Schiff staffers to plot impeaching the President before there were formal House impeachment proceedings," he wrote. "My question is about the actions of known Obama partisans within the NSC and House staff and how they are reported to have conspired before impeachment proceedings had even begun," he said.
Graham: 53 GOP Votes for Hunter Biden
Sen. Lindsey Graham (R-S.C.) claimed there were 53 senators who would be willing to vote for testimony from former Vice President Joe Biden's son Hunter Biden, a central impeachment figure.
Graham told reporters Wednesday: "If there's going to be one witness, there will be more. And there's 53 Republican votes to call Hunter Biden, not 51, not 52. Because all of us believe that if this trial goes on, Hunter Biden is a very relevant witness."
Democrats have said they want to call several current and former White House officials, including former national security adviser John Bolton.
McConnell: No Update on Witnesses
Senate Majority Leader Mitch McConnell (R-Ky.) did not comment when asked about whether he had the 51 votes needed to block calling witnesses in the trial.
"We will see what tomorrow brings," he told reporters.
Democrats have said they need four Republicans to join them in voting to call up witnesses.
Dershowitz: News Outlets Distorted Argument
Trump lawyer Alan Dershowitz, a Harvard Law professor emeritus, said news outlets distorted arguments he made on the Senate floor.
"They characterized my argument as if I had said that if a president believes that his reelection was in the national interest, he can do anything," Dershowitz said on Twitter. "I said nothing like that, as anyone who actually heard what I said can attest."
He wrote: "I did not say or imply that a candidate could do anything to reassure his reelection, only that seeking help in an election is not necessarily corrupt, citing the Lincoln and Obama examples. Critics have an obligation to respond to what I said, not to create straw men to attack."
Then he concluded: "What I said was that there are 3 broad categories of relevant motive: 1) pure national interest ( help the military) 2) pure corrupt motive ( get a kickback) And 3) mixed motive (help the national interest in a way that helps your reelection efforts ) (MTC)."
Schumer: Not Sure on Witnesses
Senate Minority Leader Chuck Schumer (D-N.Y.) conceded Thursday that his caucus and House impeachment managers likely will not convince four Republican swing-vote senators to vote for more witnesses during President Donald Trump's impeachment trial.
"I hope we can get witnesses and documents. It's an uphill fight. Is it more likely than not? Probably no. But is it a decent, good chance? Yes," he told reporters Wednesday.
"The president and [Senate Majority Leader] Mitch McConnell put huge pressure on these folks," Schumer said, referring to the GOP senators. Sens. Mitt Romney (R-Utah), Susan Collins (R-Maine), and Lisa Murkowski (R-Alaska) have been floated as possible swing-voters, while Collins and Romney both suggested the need to call former national security adviser John Bolton.
Schumer, on Thursday, said that his "focus is getting four Republicans" to vote on witnesses, and Democrats "shouldn't rely on" Chief Justice John Roberts to act. "We don't know what the four witnesses will say," he said, adding: "They might be exculpatory. They might be … incriminating."
At the same press conference, Senate Minority Whip Dick Durbin (D-Ill.) said he hopes there are at least "three Republican senators who are seriously considering joining" Democrats' push to vote for witnesses.
From The Epoch Times