The judge overseeing former President Donald Trump's New York civil fraud trial denied his request for a mistrial on Friday.
Defense attorneys filed a motion seeking a mistrial on Nov. 15, alleging that New York State Supreme Court Justice Arthur Engoron and his chief law clerk showed an "appearance of bias" against the former president. The motion also cited the partisan political contributions of the chief law clerk.
Judge Engoron, in denying the motion on Friday, said that it was "utterly without merit" and would be "futile" to proceed to a full briefing schedule, despite prosecutors having "advocated for" it.
In his ruling, the judge defended himself and his principal law clerk, Allison Greenfield, who came under scrutiny.
The motion seeking a mistrial pointed to a high school newsletter, at which Judge Engoron, in his capacity as a Wheatley School alumnus, works as an editor. The newsletter has publicly posted links in the "newsletter he maintains to articles disparaging parties and counsel."
The judge denied that this was evidence of bias, stating that his duties with the newsletter don't affect "my presiding fairly, impartially, and professionally" over the current case.
The newsletter, which began publishing after Judge Engoron established the Wheatley School Alumni Association in 2007, made headlines earlier this month when several prominent conservative social media users posted photos to the newsletter that appear to show the judge shirtless while working out.
"When an online publication mentions a graduate, including myself, I include an excerpt and/or a link, usually both," Judge Engoron wrote in his ruling. "Consequently, I have been the subject of entries concerning this case due to its undeniable newsworthiness."
"However," he added, "I neither wrote nor contributed to any of the articles on which defendants focus, and no reasonable reader could possibly think otherwise."
Judge Denies 'Co-Judging' at Play
Regarding Ms. Greenfield, the defense attorneys' motion cited her "partisan political contributions" to groups that oppose President Trump, which they said were "in excess of strict limits" of $500 per year.
In his ruling, Judge Engoron noted that, given Ms. Greenfield's past Democratic candidacy for a civil court judgeship in Manhattan, the rules permit her to exceed the limits if it relates to purchasing tickets to political functions or donating to her own campaign.
He also rejected any suggestion that Ms. Greenfield's presence at political events "sponsored by certain organizations" implied that all actions and stances of those organizations "should be imputed to her, and by proxy, to me."
The motion noted Ms. Greenfield's "unprecedented role" in the trial, saying that the judge "pauses to consult with her on the bench" before he "rules on most issues." He also "receives from her contemporaneous written notes."
Defense lawyers argued she was essentially "co-judging" the trial.
Ms. Greenfield's actions, according to the motion, would lead "even a casual observer to question the court's partiality."
Dismissing these allegations as grounds for a mistrial, Judge Engoron said Friday: "[M]y rulings are mine, and mine alone. There is absolutely no 'co-judging' at play." He added that it is within his "absolute discretion" to consult with his clerk before issuing rulings.
"Accordingly, there is no factual or legal basis for a mistrial based on these allegations against my Principal Law Clerk," he wrote.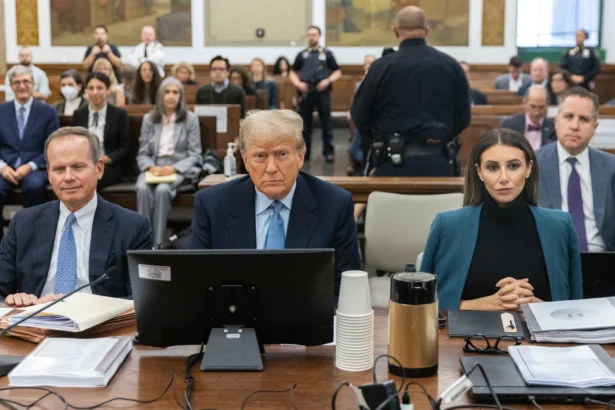 Trump's Lawyer Says Judge 'Refused to Take Responsibility'
Responding to the ruling, President Trump's lawyer, Alina Habba, said the judge "refused to take responsibility" for what she charged was his "failure to preside over this case in an impartial and unbiased manner."
"We, however, remain undeterred and will continue to fight for our clients' right to a fair trial," she said in a statement.
The trial, based on a lawsuit by New York Attorney General Letitia James, alleges fraud by President Trump and the Trump Organization in inflating his net worth. All parties, including the former president's sons, have denied wrongdoing.
Ms. James' office has previously criticized the former president's attempt to have the judge declare a mistrial. A spokesperson from her office has said President Trump "is trying to dismiss the truth and the facts."
Judge Engoron had previously ruled President Trump liable for fraud before the trial began, so it now focuses solely on determining penalties. Ms. James seeks $250 million in damages and a five-year ban on President Trump and other executives doing business in the state.
The judge's ruling on Friday comes after an appeals court temporarily lifted a gag order that Judge Engoron had imposed on President Trump and his lawyers after the former posted online about court staffers, including Ms. Greenfield, who subsequently became the subject of scrutiny.
The order prohibits President Trump from making any statements about the judge's staff and his communication with them.
New York Appellate Division Associate Justice David Friedman lifted the gag order on Nov. 16, citing constitutional and statutory rights.
He questioned Justice Engoron's authority to restrict President Trump's speech outside the courtroom, noting that gag orders are common in criminal cases where the defendant could influence the jury.
The trial is expected to run until mid-December.
Jack Philips contributed to this report.
From The Epoch Times