A missing 9-year-old in South Dakota could be dead after vanishing on Feb. 2, the local sheriff said.
Serenity Dennard walked away from the Black Hills Home Society in the Rockerville area and if she's been outside the entire time since going missing, she's likely dead, the Pennington County Sheriff's Office told KELO.
But the sheriff stressed that someone could have picked her up or she could have made it to an indoor location on her own and that she could still be alive.
The effort officially transitioned from a search-and-rescue to recovery on Wednesday, the sheriff's office told KEVN.
More than 100 people joined the search for Serenity on Tuesday until the late afternoon but as of Wednesday, only sheriff's deputies were looking for the girl.
But multiple investigators are trying to track down leads as they work to determine what happened on the morning that Serenity went missing.
"We have five investigators that are assigned to this, this is all they're doing, working every lead, every possibility, continue to interview staff and other children in the home and family and neighbors, anybody that might have possibly been on that road," Pennington County Sheriff's Office deputy Wilie Welchel told KELO.
Along with hoping for a break in the case, officials are hoping for the weather to warm up to make it easier to search for the missing girl.
"With the real cold temperatures and snow, what we really need is a break in this weather, for that too, but we're trying to get those resources just as soon as we can," Whelchel said.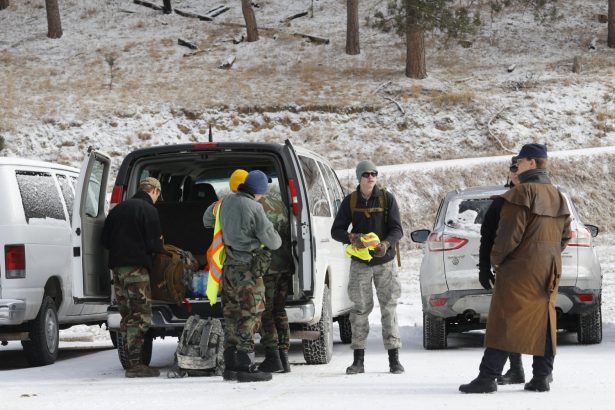 The scaled down search on Wednesday was partly due to harsh weather conditions, which left the area with heavy snow and wind.
"We don't have ground crews out there right now we do have deputies in the command post. We have them driving in the area looking for anything still talking to anyone who may have any information in the area so we have a presence but we don't have 100 people out going through the woods today due to the extreme circumstances," Pennington County Sheriff's Office Lieutenant Kraig Wood told KOTA.
"We're still hopeful that we can have a good outcome on this. Obviously, if Serenity did not get into a warm place or was not picked up and she's still out there in the woods due to the weather conditions and everything that's probably not a good outcome," Welchel added.
"Obviously this is a very tragic situation due to weather and the area out there and all that but we're still hoping that Serenity might have found a warm place to get into or someone might have picked her up out there, seen her on the road or in that area."
Anyone who believed they had seen Serenity, who was described as a white female standing 4 feet 9 inches tall, weighing 100 pounds, with blue eyes and blonde hair, was asked to call 605-394-6115.
A sheriff's office in South Dakota believes the desperate search for a 9-year-old girl who ran away from a children's home is now a recovery effort. #SerenityDennard was last seen on Sunday. @KOTATweets: https://t.co/TWYoCB0z0l

— HLN (@HLNTV) February 6, 2019
Missing Children
There were 464,324 missing children reported in the FBI's National Crime Information Center in 2017, according to the National Center for Missing and Exploited Children.
Under federal law, when a child is reported missing to law enforcement they must be entered into the database. In 2016, there were 465,676 entries.
"This number represents reports of missing children. That means if a child runs away multiple times in a year, each instance would be entered into NCIC separately and counted in the yearly total. Likewise, if an entry is withdrawn and amended or updated, that would also be reflected in the total," the center noted.
In 2017, the center said it assisted officers and families with the cases of more than 27,000 missing children. In those cases, 91 percent were endangered runaways, and 5 percent were family abductions.
About one in seven children reported missing to the center in 2017 were likely victims of child sex trafficking.