Brooklyn Center Police officer Kim Potter has been identified as responsible for the fatal shooting of 20-year-old Daunte Wright, whose death has been ruled as homicide by medical examiners.
Potter, a 26-year veteran of the Brooklyn Center Police Department, was identified Monday by Minnesota's Department of Public Safety as the officer who shot Wright during a traffic stop near Minneapolis on Sunday afternoon.
The 48-year-old officer has since been placed on administrative leave while investigators consider what disciplinary action, or potential criminal charges, should be imposed, Brooklyn Center Police Chief Tim Gannon said Monday.
According to state records obtained by the Star Tribune, Potter became a licensed police officer in Minnesota in 1995 at the age of 22.
Police earlier released body camera footage of 20-year-old Wright being fatally shot by Potter at a traffic stop where police were attempting to arrest him for an outstanding warrant.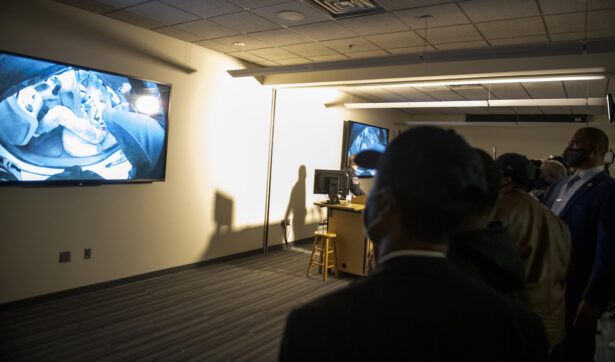 According to court records, Wright was charged in March with two misdemeanors for carrying a handgun in a public place without a permit and fleeing from a police officer "by a means other than a motor vehicle." He was issued a warrant after failing to appear at a hearing on April 2.
Gannon said that Potter, who shot Wright as he was resisting arrest, had meant to pull a Taser—not her handgun.
"It appeared to me, from the video, that the individual was trying to get back into his car to leave," Gannon said. "It is my belief that the officer had the intention to deploy their Taser, but instead shot Mr. Wright with a single bullet."
Gannon said that based on his experience and training, it appeared as though it was an "accidental discharge that resulted in the tragic death of Mr. Wright."
"I'll Tase you! I'll Tase you! Taser! Taser! Taser!" Potter is heard shouting on on body camera footage, adding moments later: "Holy [expletive]. I just shot him."
After Wright was shot, Wright and his girlfriend in the vehicle then traveled several blocks in their car before before crashing into another vehicle.
Medical personnel attempted to perform life saving measures at the scene but Wright was pronounced dead shortly afterwards.
The Hennepin County Medical Examiner confirmed Monday (pdf) that Wright "died of a gunshot wound of the chest and manner of death is homicide."
According to the Tribune, Potter was involved in another fatal shooting of a man, named Kobe Dimock-Heisler, in Brooklyn Center in August 2019. He allegedly charged at officers with a knife inside a home.
The Bureau of Criminal Apprehension has been asked to conduct an independent investigation of the shooting.
From The Epoch Times