Starbucks on Thursday announced a new long-term business strategy designed to further expand the brand globally, increase efficiency, and expand its digital capabilities.
Hours after announcing the return of its popular Holiday drinks, the company unveiled its "Triple Shot Reinvention with Two Pumps" strategy, aiming to open 17,000 additional stores in 86 markets by 2030—which equals to opening an average of eight stores per day in the coming six years.
"We will become truly global," said Michael Conway, group president of Starbucks' International and Channel Development, although the company's expansion seems to emphasize the Chinese market.
Global expansion is only one of the three priorities of the new business plan—strengthening the company's digital capabilities and elevating it as a brand are the other two.
Its "Two Pumps" are unlocking efficiency and reinvigorating partner culture.
The company will focus on opening "purpose-defined stores" like drive-thru only, double-sided drive-thru, or delivery-only, said Sara Trilling, executive vice president and president of Starbucks North America.
"To capture that demand, we will build more new stores—with new formats, in new cities and cities we're already in," Ms. Trilling said. "To be clear, Starbucks has not saturated the U.S. market."
The company currently has some 16,300 stores in the United States and plans to increase that number to 18,000 by 2025 and 20,000 further down the road.
The company also has plans to grow its core menu and provide all-day breakfast and all-day snacks.
The plan to "unlock efficiency" is aimed at generating$3 billion in savings over the next three years. By the end of the 2025 fiscal year, Starbucks expects to "double hourly income" compared to 2020, said Sara Kelly, executive vice president and chief partner officer.
Starbucks said it seeks to double its "Starbucks Rewards" members with another 75 million loyalty members—the more frequent customers—within the next five years.
Following its successful partnership with Delta Airlines, the company also announced additional 'Rewards Together' partnerships—with an unnamed financial institution and a hospitality partner—within the next six months.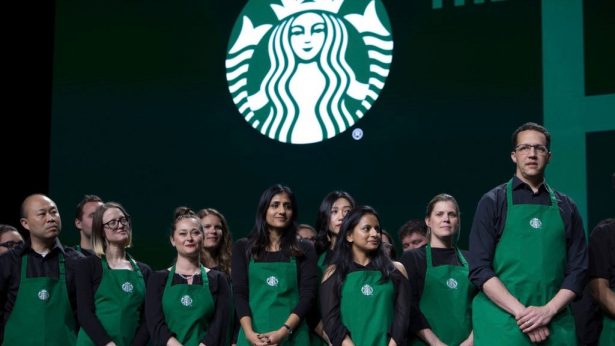 Starbucks announced it is collaborating with Microsoft, Apple, and Amazon to "enhance the customer and partner experience." Specifically, the company said it has engaged Microsoft "to marry industry leading generative AI capabilities to take product development and personalization to the next level."
"Our ambition is to know every customer, personalize their experience and make Starbucks effortless. We have a clear and compelling roadmap, the acceleration has already started, and we will extend our digital leadership globally," said Brady Brewer, executive vice president and chief marketing officer.
'Reinvention' Ahead of Schedule
CEO Laxman Narasimhan said in a statement that the "reinvention" the company announced in September 2022 was proceeding ahead of schedule.
The "reinvention" includes upgrading 1,000 stores a year with modernized equipment to speed up service, reduce the time to make coffees and cook food.
Starbucks also shared its Q4 and Full Year Fiscal 2023 results, reporting a record $9.4 billion Q4 revenue and an 8 percent increase in comparable store sales in North America and 5 percent internationally.
"We finished our fourth quarter and full fiscal year strong," Mr. Narasimhan said, adding: "We expect sustained momentum throughout the company for years to come."