Former President Donald Trump has urged Republicans in Congress to temporarily cut funding for the Department of Justice (DOJ) and the FBI, claiming that Democrats "have totally weaponized" the nation's top law enforcement agencies to "interfere" with elections.
Trump, seeking the Republican nomination for the 2024 presidency, wrote in an all-caps statement on Truth Social Wednesday that the GOP "should defund the DOJ and FBI until they come to their senses."
"The Democrats have totally weaponized law enforcement in our country and are viciously using this abuse of power to interfere with our already under siege elections!" he wrote.
Trump's proposal, however, is unlikely to be heeded by Congress, with Democrats controlling the Senate and Republicans leading the House of Representatives. It would also be a sharp turn, as Republicans have in the past supported robust funding for law enforcement and have criticized proposals from some Democrats in recent years to "defund the police."
According to White House figures, Trump backed spending increases for the DOJ while serving as president from 2017 to 2021. Its budget increased by 4 percent during that span to $38.7 billion.
The FBI, part of the DOJ, is the U.S. domestic intelligence and security agency. Trump appointed the current FBI director, Christopher Wray, after firing its previous chief, James Comey, in 2017.
Weaponization of Federal Bureaucracy
Since retaking the House, Republicans have mounted investigations into the ways that the federal law enforcement apparatus has allegedly been weaponized against political enemies.
House Judiciary Committee Chairman Jim Jordan (R-Ohio), who led the first hearing of the House Select Subcommittee on the Weaponization of the Federal Government, recently championed the idea of slashing funding for both the DOJ and FBI.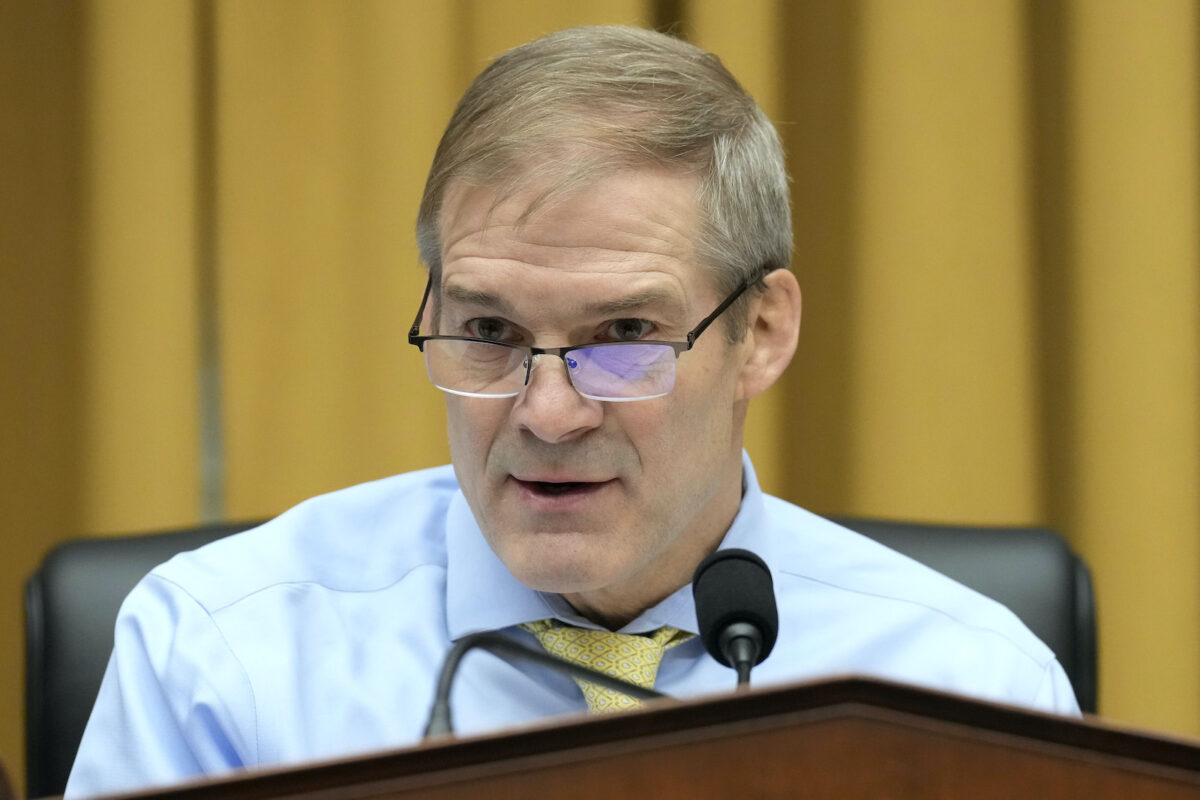 During an appearance on Fox News's "Sunday Morning Futures" with Maria Bartiromo, Jordan signaled the idea of limiting funding of federal agencies that can't "stay out of the election process."
"We control the power of the purse, and that's—we're going to have to look at the appropriations process and limit funds going to some of these agencies, particularly the ones engaged in the most egregious behavior," Jordan said.
Bartiromo reacted to Jordan's remark by asking the Ohio congressman: "So the DOJ and the FBI?"
"Yeah," Jordan responded. "I'd really like for the government just to stay out of the election process."
"[In] 2016 they spied on his [Trump's] campaign, 2018 the Mueller investigation 2020, they suppressed the Hunter  Biden story, 2022 they raid his home 91 days before an election," he said. "And now, [the] leading candidate for President of the United States 2024 election, they indict the former president and top candidate who's leading in every poll."
House Speaker Kevin McCarthy, meanwhile, accused Manhattan District Attorney Alvin Bragg of weaponizing the U.S. justice system against Trump, who was indicted this week on 34 counts of falsifying business records.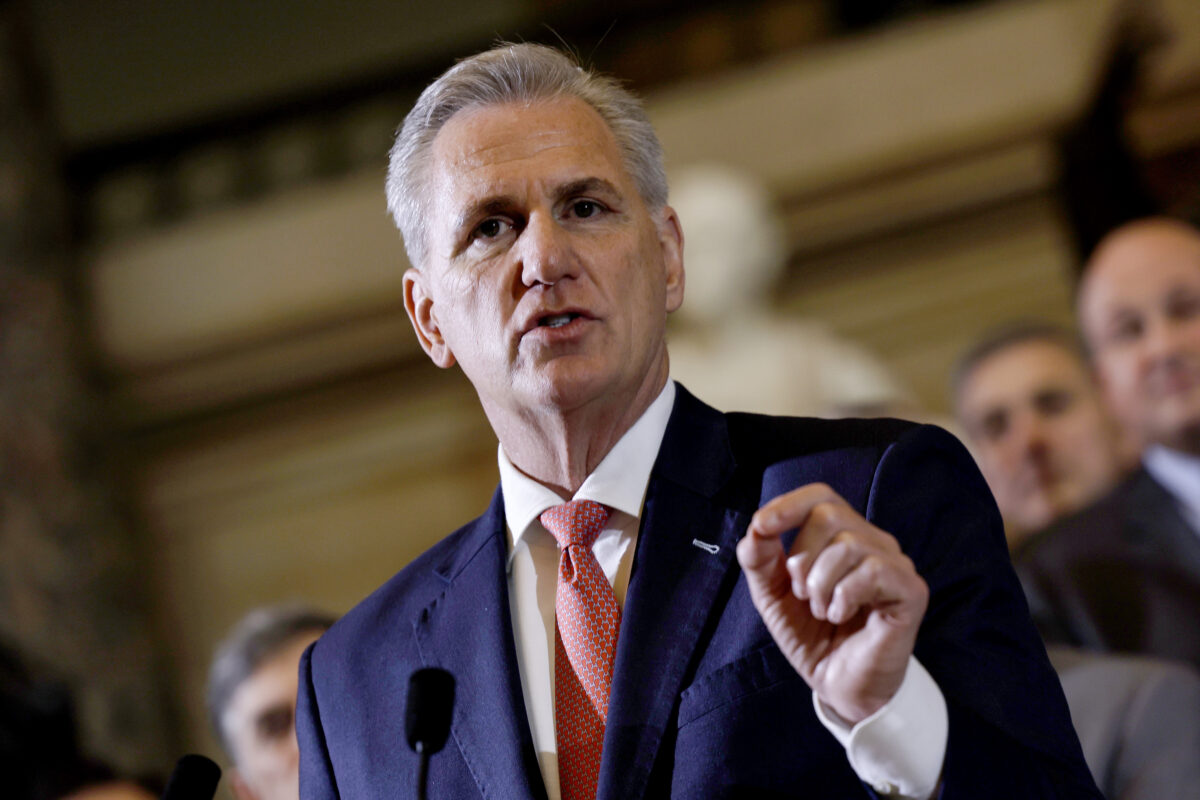 "Alvin Bragg is attempting to interfere in our democratic process by invoking federal law to bring politicized charges against President Trump, admittedly using federal funds, while at the same time arguing that the people's representatives in Congress lack jurisdiction to investigate this farce," McCarthy said in a statement on Twitter, noting that the DA's "weaponization of the federal justice process will be held accountable by Congress."
However, House Oversight Chair James Comer is expected to meet "this week" with McCarthy and Jordan to "try to figure out a path moving forward" on Bragg's alleged use of federal funds, according to Congressional reporter Annie Grayer.
The DOJ on Thursday did not respond to comment on either Trump's, Jordan's, or McCarthy's remarks.
Trump has argued over the years that law enforcement at the national and state level targeted him for political purposes, and Republicans in Congress have held hearings to examine what they describe as the "weaponization" of government.
The first hearing, on Feb. 9, came after Republicans in December unveiled a massive 1,050-page whistleblower report detailing the "weaponization" of the federal government.
Indictment Details
Bragg charged Trump on April 4 with 34 felony counts of falsifying business records over allegations that he orchestrated payments to two women before the 2016 election to suppress publication of their alleged affairs with him. Trump has denied having an affair with either woman, saying he's a victim of extortion.
Prosecutors said the payments to adult film actress Stormy Daniels and former Playboy model Karen McDougal constituted an attempt to conceal a violation of election law.
Trump said Bragg, a Democrat, brought the charges against him for political reasons. In comments after the charges were brought, Bragg said he has a responsibility to ensure everyone stands equal before the law.
While delivering remarks from his Mar-a-Lago estate in Florida hours after pleading not guilty, Trump said Bragg "campaigned on the fact that he would" pursue Trump's arrest.
Trump also described the judge in his current case, Juan Merchan, as a "Trump-hating judge." He noted that Merchan's daughter worked on Vice President Kamala Harris's 2020 presidential campaign.
Merchan has set the next hearing for Dec. 4, when campaigning for the Republican presidential nomination will intensify. Legal experts have said a trial may not start for a year.
An indictment, or even conviction, does not legally prevent a person from running for president.
Reuters contributed to this report.