Former President Donald Trump is calling a criminal investigation that was confirmed by the New York Attorney General's office into the Trump Organization a "political witch hunt."
After Attorney General Letitia James's office announced the probe on May 18, Trump said that "there is nothing more corrupt than an investigation that is in desperate search of a crime."
"But, make no mistake, that is exactly what is happening here," he said of the investigation. "The attorney general of New York literally campaigned on prosecuting Donald Trump even before she knew anything about me."
The former president noted that James, a Democrat, said during her campaign that she would use her office to investigate Trump's real estate business.
According to Trump, James said in clips: "Just wait until I'm in the attorney general's office," as well as, "I've got my eyes on Trump Tower."
Describing the scenario as something that "happens in failed third-world countries," Trump argued that James "made each of these statements, not after having had an opportunity to actually look at the facts, but BEFORE she was even elected, BEFORE she had seen even a shred of evidence."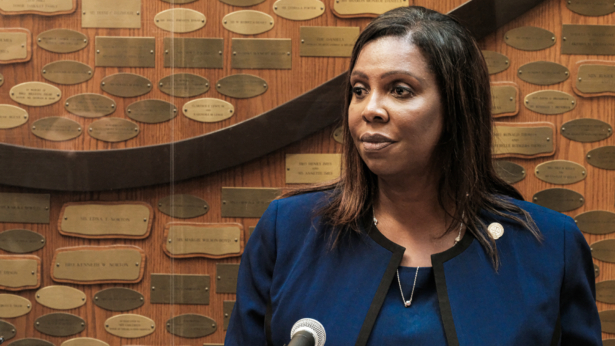 Trump's statement came a day after a spokesperson for James, Fabien Levy, told news outlets that the office "informed the Trump Organization that our investigation into the Organization is no longer purely civil in nature," before adding: "We are now actively investigating the Trump Organization in a criminal capacity, along with the Manhattan DA. We have no additional comment."
The statement from Levy didn't elaborate on what turned the investigation into a criminal matter.
James opened an investigation in 2019 into allegations that Trump had inflated the value of his assets to banks when he sought loans, among other claims. New York prosecutors, including District Attorney Cyrus Vance, have also been seeking his tax returns—which became the subject of numerous lawsuits and court filings over the years. Trump has denied the claims.
Additionally, Trump said that Democratic district attorneys and prosecutors are focusing on him, instead of trying to deal with a surge in violent crime in recent months.
"These Democrat offices are consumed with this political and partisan Witch Hunt, at a time when crime is up big in New York City, shootings are up 97 percent, murders are up 45 percent, a rate not seen in 40 years," the former president said.
The New York attorney general's office didn't immediately respond to a request by The Epoch Times for comment.
From The Epoch Times