Former President Donald Trump's legal team will "very soon" file for a mistrial in the New York fraud case to address a range of "issues," said his attorney on Sunday.
Attorney Alina Habba was asked during a Fox News appearance about whether they will file a mistrial, she said it would come "soon" and "very soon." She added the former president is concerned about the judge and the clerk in the trial, saying that a gag order prevented her from issuing a full response.
"I can tell you that we will be filing papers to address all of those issues," Ms. Habba told the outlet. "The problem is, with all of these things, such as filing a motion for recusal, which we have done twice, is that the judge has to be the one that decides—is he going to recuse himself? Does he feel that there was a mistrial?"
Because it is a "bench trial" and one judge, Arthur Engoron, is involved, he has to make those determinations, the attorney added. "At this point, I don't have any reason to believe he shouldn't after what we have learned, if it's true," she said.
On Monday, the former president's legal team is expected to present their case in New York, where President Trump faces a $250 million lawsuit that was brought about by New York Attorney General Letitia James.
She has alleged that the Trump Organization engaged in fraudulent activities over a decade, while accusing the former president, his sons, and the real estate firm of falsely inflating the value of its assets. The former president and his sons, Donald Jr. and Eric, have denied wrongdoing, while President Trump has said it's part of a politically motivated bid to derail his third presidential campaign.
In a separate interview with Fox News on Sunday, Ms. Habba claimed that the Trump Organization can prove that no lenders were harmed and were paid on time, with interest, and made money. Instead, she added, it is because Ms. James wanted to make a name for herself, making note of a statement the attorney general had made during her first campaign about prosecuting President Trump.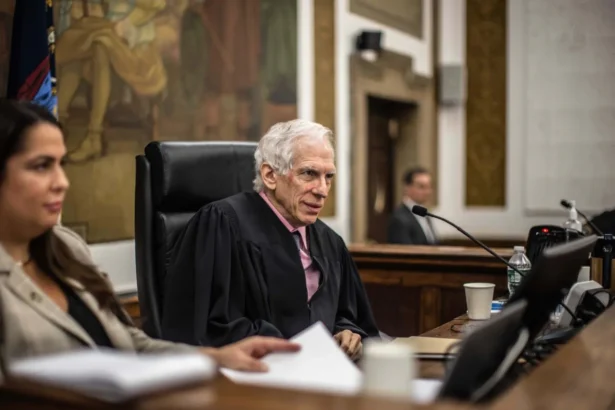 Late last week, a top House Republican, Rep. Elise Stefanik (R-N.Y.), a filed an ethics complaint against Judge Engoron, alleging he has displayed a "clear judicial bias" against President Trump and his company. Her letter said that the judge has failed to honor President Trump's due process rights under the U.S. Constitution and made note of the former president's status as a clear GOP presidential front-runner for the 2024 race.
"I filed an official judicial complaint against Judge Arthur Engoron for his inappropriate bias and judicial intemperance in New York's disgraceful lawsuit against President Donald J. Trump and the Trump Organization," Mrs. Stefanik said in a statement to several news outlets. "Americans are sick and tired of the blatant corruption by radical Leftist judges in New York. All New Yorkers must speak out against the dangerous weaponized lawfare against President Trump."
So far, Judge Engoron has not issued a public comment about the letter. Before the trial started, the judge ruled in September that he believes the Trump Organization defrauded banks and insurers by inflating the value of its assets, ordering that some of the former president's business licenses be rescinded as punishment.
"In the defendants' world, rent regulated apartments are worth the same as unregulated apartments; restricted land is worth the same as unrestricted land; restrictions can evaporate into thin air; a disclaimer by one party casting responsibility on another party exonerates the other party's lies," Judge Engoron wrote in a 35-page ruling. "That is a fantasy world, not the real world."
However, some real estate professionals have cast doubt on the judge's ruling, namely regarding President Trump's Mar-a-Lago property in Florida. Judge Engoron ruled that President Trump over-valued Mar-a-Lago by a significant margin.
"Appraisal values and market values are just not the same thing. It's a well-known fact," Eli Beracha, chair of the School of Real Estate at Florida International University, told CNN last month. "That's especially true for properties that are unique. And it's very easy to argue this is a unique property."
About a month after his ruling, a New York appeals court judge temporarily halted the process of breaking up President Trump's businesses. The appeals court judge, however, rejected President Trump's attempt to dismiss the fraud trial.
Other than the fraud case, the former president separately faces criminal charges in Georgia, Washington, D.C., Florida, and New York City. He has pleaded not guilty to all the counts in each case.
From The Epoch Times