Whoever runs the purchasing department at the Dubai Police Department may have watched a lot of 1980s television, where shows like "Knight Rider," "Airwolf, Street Hawk," and "The Highway Man," featured high-tech vehicles as key members of the cast.
Perhaps unfettered by routine budget constraints that keep most police departments with both feet firmly planted on the ground, the Dubai Police force is set to take off on new flying bikes and other high-tech vehicles.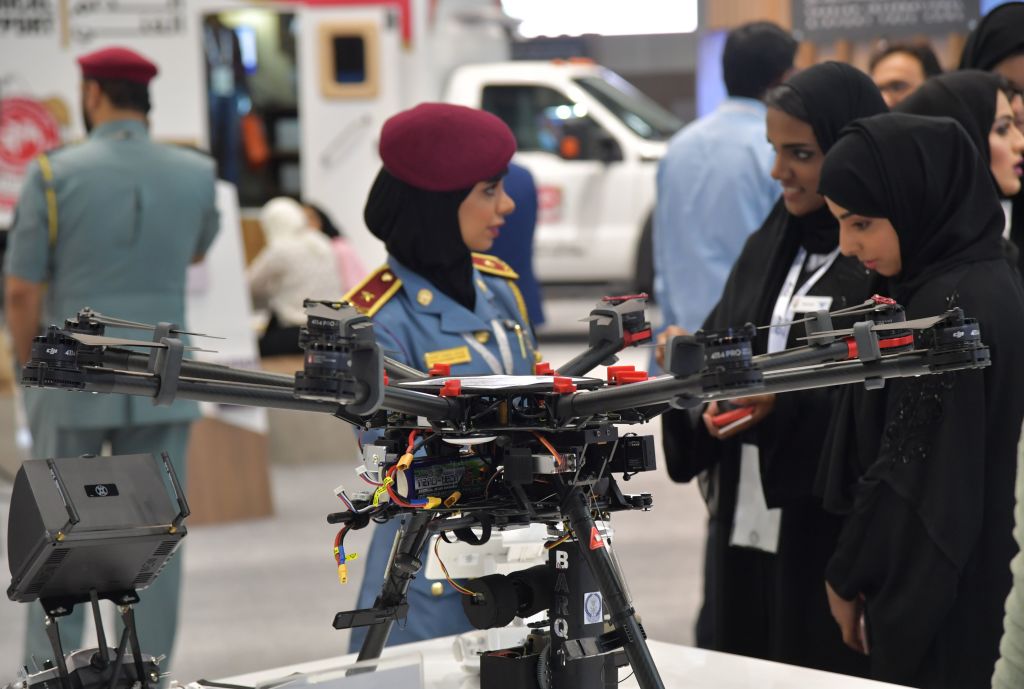 Police said their new battery-operated 'Hoversurf' can get above traffic and respond more quickly to emergency calls, reported Gulf News.
Dubai police revealed the hover bike on Sunday at GITEX, an annual consumer tech show in Dubai, United Arab Emirates.
"It works on electricity and can fly at five meters height and carry a policeman during emergency situations and heavy traffic. The bike can also fly without a passenger and can go up to 6 kilometers. It can fly for 25 minutes and can carry up to 300 kg of weight at a speed of 70kmh," First Sgt. Ali Ahmad Mohammad from the VIP Security Department in the Dubai Police Department told Gulf News.
For motorcycle officers that prefer being on the asphalt to being airborne, Dubai police also unveiled a smart motorbike that looks like something out of a Japanese anime movie.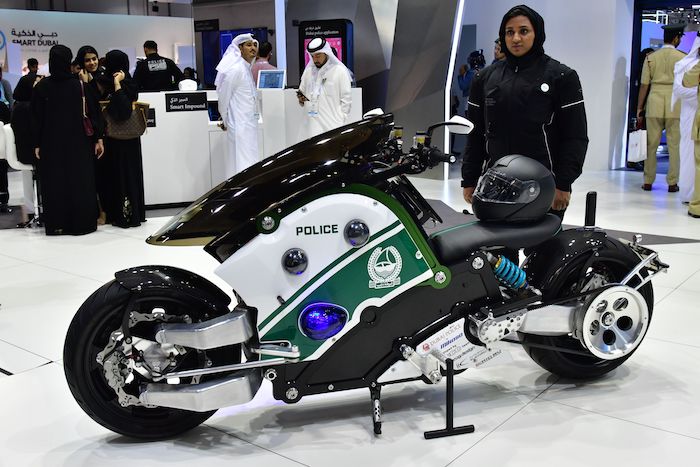 "The smart motorbike has eight cameras to take pictures and videos of violating vehicles. The battery-operated motorbike has a maximum speed of 200kmh," Huda Hassan, an Emirati policewoman told Gulf News.
Dubai police worked with Japanese company Mikasa on the smartbike, which is supposed to be able to help identify reckless drivers.
The police representative said the bike was going to be tested on the streets before being fully delpoyed.
This year, new devices set to be rolled out by Dubai police featured prominently. Besides the super cycles, police unveiled a small driverless car that can scoot along sidewalks and crowded areas to scan for criminals and suspicious behavior.
"It will be deployed at tourist destinations in Dubai. It has cameras and will be linked to the command room," Brig. Khalid Nasser Al Razooqi, director of the Smart Services Department at Dubai Police, told Gulf News.
Gitex (Gulf Information Technology Exhibition) is one of Dubai's premier trade shows and a part of a broader effort to mark the Dubai as an important technology hub. The massive trade show spans several exhibition halls at the Dubai World Trade Centre.
From The Epoch Times