Detectives want to identify a man who could have information on the disappearance of Ohio teen Madison Bell, who hasn't been seen since she left her home in Greenfield on the morning of May 17.
Pictures have been released by the Highland County Sheriff's Office (HCSO) on Thursday, and investigators are asking the public if anyone has seen the man, who was at the same location at the time of the 18-year-old's disappearance.
Police described the unidentified man as having white skin, brown hair, a short beard, and a thin mustache. He was last seen wearing a white shirt with a green checker pattern, Chillicothe Gazette reported. He reportedly owns a white sedan (pictured) with California license plates.
"This individual may have information related to the disappearance of Madison Bell," an HCSO Facebook post reads.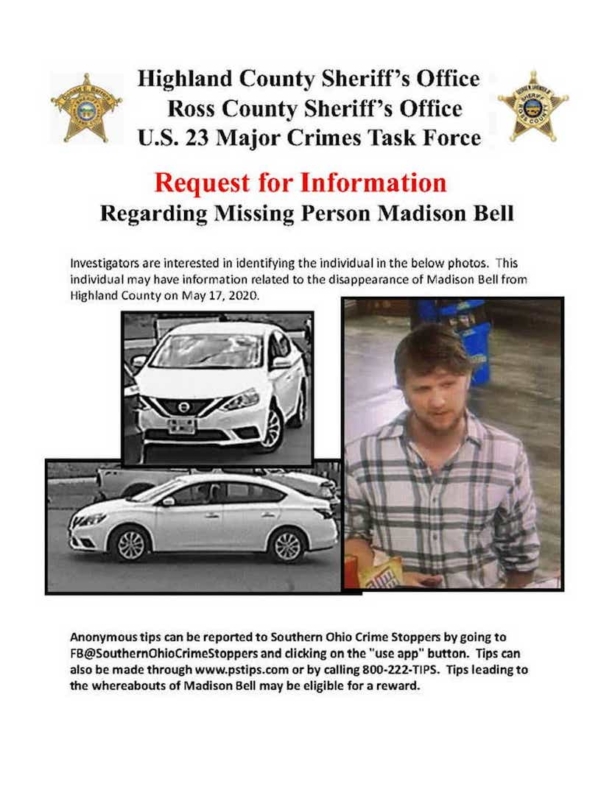 Bell's case is an active investigation and detectives are currently following leads, Highland County Sheriff Donnie Barrera said.
Several people saw the man who was in the church parking lot before 10 a.m. the day Bell was last seen. Witnesses described him as tall and in his late 20s to early 30s.
Bell's car was found unlocked at the church parking lot near to where she left her home that Sunday morning, with her keys and cellphone still inside the car.
"She would never leave these items in the car. We don't know how her car got there or if she was coaxed to pull in," Bell's mother said at the time.
"Her car was found unoccupied, unlocked, windows up, and keys in the ignition and her phone was laying in the car," mother Melissa Montavon said. "She would NEVER be even a few minutes late from wherever she was going without calling or texting me."
The girl left home around 10 a.m. that Sunday, telling her mother she was going to a tanning salon, HCSO officials said.
"I was cleaning when she changed clothes and left, and yelled, 'Mom, I'm going to tan and I'll be right back,'" Montavon wrote on Facebook. "She left and I haven't heard from her since."
Police described Bell as a white female with brown eyes and brown hair. She is 5 feet 6 inches tall and weighing between 120 and 125 pounds. She also has gray contact lenses, a cross tattoo on her neck, and a ghost tattoo on her side.
Montavon said Bell is going to school and was in her senior year. "This would be her senior week of high school, so we had a lot of events going on this week that she wouldn't miss," Montavon said.
"Please keep your eye out for my daughter Madison," she wrote in a plea on Facebook.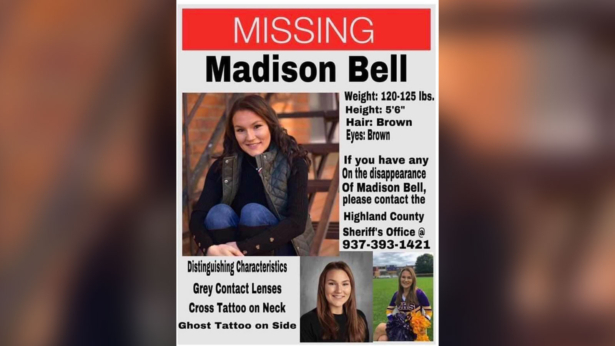 Bell's boyfriend said during an interview with FOX19 NOW Tuesday night he has had little sleep since Bell vanished.
"'I'll see you when you get back,' is the last thing I got to say," Cody Mann said. "She's the most loving girl I've ever seen in my life. I mean, I can't even explain it… I just want her to come home," he added.
Since Bell was reported missing last week, the community prompted a massive search involving more than 350 people with search equipment such as ATVs, Chillicothe Gazette reported. Ohio's Bureau of Criminal Investigations and the FBI also joined the search from May 20.
A $15,000 reward is being offered for her safe, according to a Facebook post by her cousin, Caitlin Johnson.
Anyone with information on Bell's whereabouts is asked to call HCSO at (937) 393-1421 or the hotline at 844-727-9111.
Tanning salons in Ohio reopened on May 17, nearly two months after they were closed because of the CCP (Chinese Communist Party) virus pandemic.