The ISIS terrorist group claimed responsibility for a deadly suicide bomb attack at a Shiite mosque in southern Afghanistan on Oct. 15 that killed 47 people and injured dozens more.
The blast happened during Friday prayers in the first district of Kandahar city and involved two ISIS members who shot and killed security guards manning the entrance of the Fatimiya mosque.
One of the terrorists detonated his explosive belt at the entrance of the mosque, while the other bomber walked inside the building before blowing himself up.
It was the second mass-casualty incident in the country targeting worshippers in one week.
On Oct. 8, a large explosion at a mosque in the city of Kunduz killed dozens of people and wounded at least 100. The death toll from that attack has been estimated as high as 80, though no official number has been released yet. That attack was also claimed by ISIS-K.
In a statement, ISIS news agency Amaq identified the attackers as two Afghan nationals named Anas al-Khurasani and Abu Ali al-Baluchi.
Murtaza, a witness identified by only his first name, was in charge of security at the mosque at the time of the incident and explained he saw the two bombers. Another suspect was reportedly shot by security personnel outside the building, Sky News reported.
Pictures shared by news agencies on social media showed many people apparently dead or seriously wounded on the bloody floor of the Imam Bargah mosque.
Hajji Farhad, a regional community elder, told The Associated Press it is likely that "more numbers will be added to the death toll" as many victims of the bombing remain in serious condition.
"There are so many who have lost body parts, and among those in hospital in serious condition," he told the network.
Shiite leader Sayed Mohammed Agha called on the Taliban to take serious measures to protect the Shiite minority, "because our enemies will harm our society by any means they can."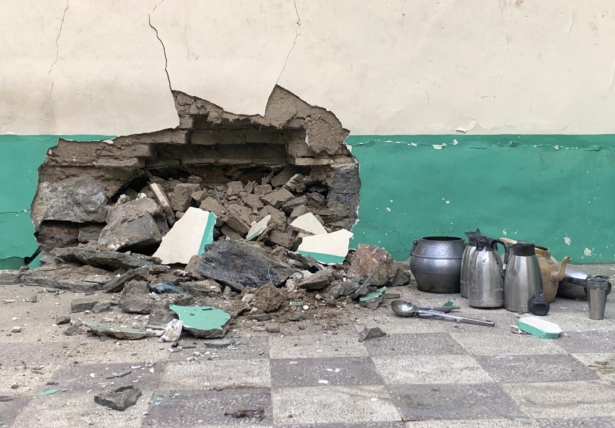 ISIS has declared war on Afghanistan's minority Shiites and has taken responsibility for some of the worst attacks targeting the community, including attacks on their mosques in Kabul and the western province of Herat.
The designated terrorist group carries out frequent attacks in its eastern stronghold, but recently has shown signs of expansion, with attacks in the north and Kabul.
The attacks have brought into question the Taliban's ability to counter the growing ISIS threat.
The Associated Press contributed to this report.