North Korean leader Kim Jong Un told Russian President Vladimir Putin on Wednesday that his country would "fully and unconditionally support" Russia's "sacred fight" against the "hegemonic forces."
Mr. Kim met with Mr. Putin at the Vostochny Cosmodrome, a space launch facility in the Amur region of Russia's Far East. The meeting took place a day after Mr. Kim's arrival in Russia aboard his armored train.
The two leaders exchanged handshakes and Mr. Kim expressed his gratitude for the invitation. He signed the visitor book in Korean: "The glory to Russia, which gave birth to the first space conquerors, will be immortal."
Mr. Putin gave his North Korean counterpart a tour around the building where Russia's new space booster, the Angara, is assembled. During the tour, he was asked by a reporter whether Russia would help North Korea build its own satellites, and he replied, "That's why we came here."
"The leader of the DPRK shows great interest in rocket engineering; they are also trying to develop space," he added, using North Korea's official name the Democratic People's Republic of Korea.
Mr. Kim also expressed his "full and unconditional support" for Russia's "sacred fight" to defend its security interests and said that North Korea will support Russia's decisions "in the fight against imperialism."
When asked if they would discuss military cooperation, Mr. Putin said that their talks will touch on "all issues." These include economic cooperation, humanitarian issues, and the "situation in the region."
After the tour, the two leaders headed a meeting of their delegations and then spoke one-on-one, according to Kremlin spokesman Dmitry Peskov.
Neither nation has disclosed information about the purpose of their meeting. U.S. officials believe discussions about a potential arms deal between the two nations will likely occur during Mr. Kim's visit.
North Korea Launches Missiles Ahead of Talks
Just hours before their meeting, North Korea launched two short-range ballistic missiles into the East Sea, South Korea's Yonhap News Agency reported. Japan also detected the launches, saying that the missiles flew on an irregular trajectory.
The missiles traveled about 650 kilometers (404 miles), according to South Korea's Joint Chiefs of Staff (JCS). They were launched from the Sunan area between 11:43 a.m. and 11:53 a.m. local time.
"While preparing for additional provocations from North Korea, our military is closely monitoring activities and signs from the country in close coordination with the United States," the JCS told reporters.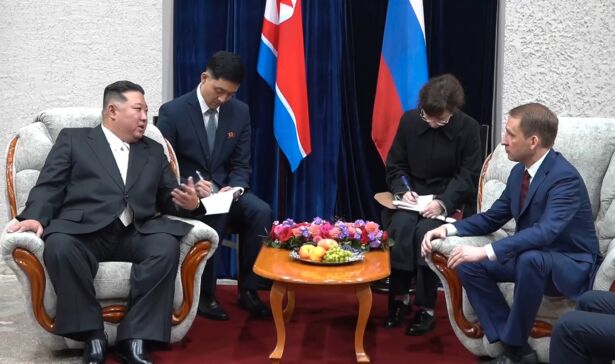 The summit between the leaders of Russia and North Korea, both of which have become increasingly isolated internationally, is being watched closely by Washington and allies, who suspect they could agree to trade arms and defense technology.
U.S. and South Korean officials have expressed concern that North Korea would provide weapons and ammunition to Russia, which has expended vast stocks in more than 18 months of war in Ukraine. Moscow and Pyongyang have denied such intentions.
National security adviser Jake Sullivan said that Moscow is seeking support from North Korea because "we have continued to squeeze Russia's defense industrial base, and they are now going about looking to whatever source they can find for things like artillery ammunition."
Providing Russia with weapons for its ongoing war against Ukraine "is not going to reflect well on North Korea, and they will pay a price for this in the international community," Mr. Sullivan told reporters on Sept. 6.
Mr. Kim's visit to Russia follows Russian Defense Minister Gen. Sergei Shoigu's visit to Pyongyang on July 27 to attend a ceremony marking the 70th anniversary of the cessation of the Korean War. He was joined by Chinese Communist Party politburo member Li Hongzhong.
According to South Korea's spy agency, Mr. Shoigu may have proposed that North Korea join trilateral military drills with China. It remains unclear whether North Korea accepted the offer.
Reuters contributed to this report.
From The Epoch Times